If Brooks Brothers is too preppy for you, and J. Crew too expensive (or trendy, or small?), then Lands' End may be just right. Where else are the women so normal that they are dubbed pornography of regret? Where else can you get standard, well-made, wintery, gifty stuff in bright colors without breaking the bank? After the jump: Down vests, cute boots, and cashmere cardigans to give or to keep.
Machine washable down vest in lots of fun colors, for men and women. Ice-skating black couples love 'em! ($24.50)
Oooh! Boots to match your vest. Or not. But they're better than Uggs, no? (Trello boots, $49.50)
G/O Media may get a commission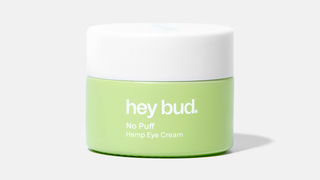 15% off
Hey Bud - No Puff Hemp Eye Cream
"Cool Blue" technology is some kind of "advanced electroluminescent" lamp thingy that can be seen up to 1000 feet away. The jackets are made for kids, but anyone can order the backpack: Maybe someone you know rides a bike and could use the safety precaution? ($29.50)
So this one time someone I know ordered a pink and white tote with pretty pink script monogramming that read "Lush." And that was great. I still, I mean my friend, still has it. (Canvas totes, $15.50-$35.50; monogramming, $5)
Monogramming is awesome. Who wouldn't want pajamas with their initials? Or maybe Benicio Del Toro's initials? Just saying.
I have a Lands' End cashmere sweater and it is one of the warmest things I own. I start to sweat when I wear it under a coat. Highly recommend. And look! So many colors to choose from! At a price lower than J. Crew. (Cashmere cardigan, $139.50)
OMG they have jewel button ones now? Dear Santa, I need one to wear over my dress on New Year's Eve, kthxbai. ($149.50)
Having the whole family in matching sweaters for a Christmas card is the kind of gimmick that can go either way. Here's why this is kind of sweet instead of cloying and annoying: The sweater is a wee bit fug. It is! But there's something endearing about it. Also, instead of WASPy plaid or overdone velvet dresses and suits, this "aw shucks we're just hanging by the barn in our jeans" look is casual and relate-able. Also, dog sweater for the win.
(Snowflake sweater: Women's turtleneck, $79.50; men's crewneck, $99.50; kids' crewneck, $55; pet sweater, $29.50)
Raise your hand if you're a woman who would rather wear flannel to bed than any gauzy filmy concoction Victoria's Secret whips up, yawn.
(Nightshirt, $40; pattern top, $35; pattern bottom, $30)
[Lands' End]
Related: Personal Inventory: The Erotic Appeal Of The Lands' End Catalog [Nerve]
Earlier: Brooks Brothers: This Christmas, WASPs Are Mad For Plaid
Bloomingdale's "Gifted": Overpriced Brand Names R Us
Doctors Foster & Smith: The Crazy Cat Lady Catalog
J. Crew's "Very Merry Gift Guide"
The Vermont Country Store: For Old Alcoholics & The Kids Who Enable Them
Bergdorf Goodman: My Kingdom For A Fountain Pen
Barneys New York: Shiny Happy People & Crazy Expensive Clothes
Anthropologie "Giving": We Love To Hate & Hate To Love It
'Tis The Season For Crappy Christmas Gifts