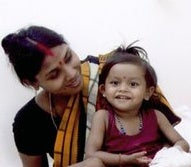 Because we continue to be spellbound by her adorableness and her condition, we bring you the happy news that our favorite reincarnated Indian deity has woken up from her surgery! She wiggled her toes! She smiled at her parents! And the doctors released CTs and X-rays to help us all understand, which we provide for you after the jump.

Here, you can see more clearly that she was basically joined at the pelvis with the headless body of the absorbed twin. Yeah, it was a little disturbing writing that.

Here's little Lakshmi post-up, with only 4 limbs and one pelvis to her name. From my complete non-medical perspective, I am totally impressed with the doctors and not at all surprised that the surgery took 24 hours.
Girl Born With 8 Limbs Conscious, Smiles [Yahoo News]