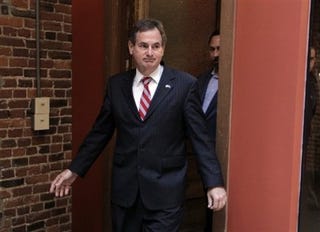 With Republicans vocally supporting candidates like Gollum (R-Goblin Kingdom) and Skeletor (R-Eternia) it's a little embarrassing when they turn their back on you. Such in the plight of poor Richard "god's intent" Mourdock. At a fundraising dinner/pep rally for Indiana Republicans on Monday evening, he was majorly dissed by many in attendance:
Some of the hundreds in attendance - mostly women - remained sitting during an ovation for Mourdock, and then stood eagerly for [Republican gubernatorial candidate, Mike] Pence. Several Republicans who attended said the reaction was the same at a reception before the dinner.

Mike McDaniel, the former Indiana Republican Party chairman, said he believes the candidacies of Pence and Mitt Romney will buoy Mourdock - but that the comments on rape and abortion did some damage.

"Those are comments that he knows he wishes he had back, and yeah, they made it closer," McDaniel said. "I think all the momentum was going in his direction, and that put a screech on that."
How embarrassing for him!
Indiana House Speaker Brian Bosma, the Republican who will most likely carry a two-thirds majority in Indiana, said that although he's not concerned about Mourdock's folly affecting his win, but he's not sure if Mourdock can pull through himself. "Every candidate is put in tight circumstances, has to answer tough questions. I don't know the answer," Bosma said. "I'm hopeful that Richard will pull it out."
That's what she said. But, seriously, folks, it's gonna be a tight race, so encourage your friends in Indiana to vote early and vote often.