Kurt Metzger, the comedian and former Inside Amy Schumer staff writer who loves to joke about rape and harass women online, has a new gig writing for Sacha Baron Cohen's show Who Is America?
According to the show's credits on IMDb, as pointed out by Summer Anne Burton, Metzger is credited for one episode of the show so far.
It's also worth pointing out that the show's entire writing staff is made up of men. In case you needed a refresher, Metzger has a long history of being a dick to women who even so much as whisper a complaint about his comedy. He has harassed feminist critics who take issue with rape jokes in comedy and claimed to be "pro-rape" at one point. He also wrote, in deleted Facebook posts that were captured by The Daily Dot in a long 2013 deep-dive into all of his terribleness, that Rihanna was "a dumb bitch" and that "If you're attracted to Chris Brown you deserve what you got," as well as admitting to choking his own ex-girlfriend.
Metzger also wrote on Facebook in 2016 that people shouldn't complain about the police not helping rape victims if they didn't go to the police after their rape. "I blame YOU shitbag phony grandstanding "internet feminists" for not constantly urging everyone to go to cops FIRST," he wrote. Afterwards, though she initially supported Metzger, Amy Schumer eventually tweeted that she was "disappointed" in his actions.
G/O Media may get a commission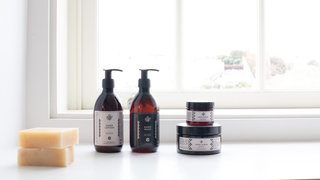 Exfoliate and Hydrate
The Handmade Soap Company
Jezebel has reached out to representatives for Showtime and Sacha Baron Cohen to figure out why in the world Metzger has this job and will update this post when they respond.