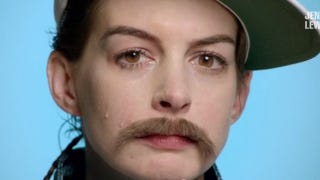 Jenny Lewis recruited some of her famous actress friends—Kristen Stewart, Anne Hathaway and Brie Larson—to dress as dudes for her new video for her song "Just One of the Guys." Does seeing Anne Hathaway with a rat tail make you hate her any less?
The song, from Lewis's solo album The Voyager, is about how she tries to be one of the guys but fails, so perhaps that's why the drag we see in the video isn't very convincing at all—although this is perhaps the most animated Kristen Stewart has been in a long time. (Or ever?)
The best part of the clip, though, are Lewis's Lisa Frank-ish rainbow gradient suits.