We're not sure how to adequately express our shock and disbelief at the news that Jason Russell, one of Invisible Children's co-founders and the star of the Kony 2012 campaign, was taken into custody last night for drunkenly masturbating in public.
Ana Gasteyer Satirizes the Girl Boss in 'American Auto'
But, as Jezebel's own Erin Gloria Ryan put it, "Wasn't the entire Kony 2012 campaign essentially this white guy masturbating in public?"
According to TMZ, Russell was dancing around wearing "speedo-like underwear," which he eventually removed to make "sexual gestures." They're also reporting that Russell may be hospitalized for up to 3 days "to determine if he represents a threat to either himself or others."
G/O Media may get a commission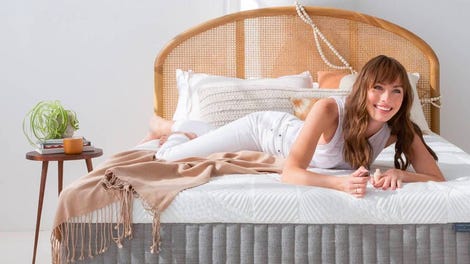 Sleep Sale
Sleep Sale - Brentwood Home
On his nonprofit's website, Russell describes himself as a "grand storyteller and dreamer," as well as a Christian who wants to have nine more children with his wife, who is his "best friend for over 23 years." There are no words.
UPDATE: Invisible Children's CEO Ben Keesey released a statement via NBC, saying:
"Jason Russell was unfortunately hospitalized yesterday suffering from exhaustion, dehydration, and malnutrition. He is now receiving medical care and is focused on getting better. The past two weeks have taken a severe emotional toll on all of us, Jason especially, and that toll manifested itself in an unfortunate incident yesterday. Jason's passion and his work have done so much to help so many, and we are devastated to see him dealing with this personal health issue. We will always love and support Jason, and we ask that you give his entire family privacy during this difficult time."
Four hours ago, Invisible Children tweeted: "Judging a person does not define who they are. It defines who you are," saying it was "some wisdom for your Friday." Interesting PR strategy? Jason Russell's Facebook wall, however, isn't looking so good.
5:55 EST: The SDPD will not charge Russell with a crime for yesterday's incident, according to TMZ. (So we've changed our headline to reflect that.)
6:30 EST: TMZ somehow got their hands on video footage. It is horrifying. No wonder the guy's on a 5150 psychiatric hold.
6:45 EST: Reader Cindy saw it happen:
Yesterday at around 11:30am I was driving to a work lunch meeting from Ocean Beach San Diego to Pacific Beach San Diego and there was a little bit of traffic. The cab I was in slowed down and we could see on the side of the road, like on the sidewalk there was a small crowd a police office and a guy in his boxers. Definitely not masturbating or vandalizing cars, but it looked like he was having serious mental problems. He was not dancing either, more like trying to get away from the cops and people who were trying to calm him down or contain him in some way. I don't know if he was drunk or on drugs at all, he just looked like a person who was not in their right mind.

I think the articles that I read, including ABC make it seem like he went out last night and got St. Patty's Day drunk (not unlike last night's 30 Rock episode) when really it looked like some sort of mental breakdown in the middle of the day in a pretty residential neighborhood.
Any San Diego Jezebel readers see Jason Russell dancing around in (or out of) his underwear last night? Email us.