We're still waiting on the new Kony 2012 video, supposedly slated to go live later today, that will answer all of our concerns about Invisible Children's finances and goals, but we have some idea of what we can expect: earnest proclamations about how "uncomplicated" it is to bring Joseph Kony down and reassurances that Invisible Children does spend some of their money (37%) on-the-ground in Africa. Here's what we're nearly 100% sure we won't see: answers regarding the nonprofit's antigay, creationist donors.
Alternet's B. E. Wilson researched 990 IRS tax forms and yearly reports from Invisible Children and 990s from its major donors and found deep financial ties to evangelicals and major funders of antigay organizations. Wilson thinks that the hundreds of thousands of dollars given by infamous gay bashers proves that, that from the first year it launched, "Invisible Children had appeared on the radar screen of some of the world's largest Christian fundamentalist grant-making organizations."
Invisible Children's first yearly report in 2006 gives "special thanks" to the "Caster Family Foundation" and their 2007 report straight-up thanks Terry and Barbara Caster. The Caster family is one of the biggest financial backers of California's anti-same sex marriage Proposition 8. And Philip Anschutz, who helped fund the Discovery Institute and supported Colorado's 1992 anti-gay marriage Amendment 2, gave $5,218 that year as well.
But one wonders what kind of "special thanks" Invisible Children has given to the National Christian Foundation, which has donated hundreds of thousands of dollars to the nonprofit over the past few years. The National Christian Foundation is the largest, most active funder of the Far Christian Right, and states on its website that they "make certain every dollar that comes to us is ultimately distributed according to our Christian mission" and that they only fund nonprofits "enable followers of Christ to give wisely to advance His Kingdom." They decided that Invisible Children deserved $350,000 in 2007 and $414,000 in 2008. Other groups that received donations include Focus on the Family, the Family Research Council, The Fellowship Foundation, The Call, and Ed Silvoso's Harvest Evangelism — all extremely active antigay fundamentalist organizations.
G/O Media may get a commission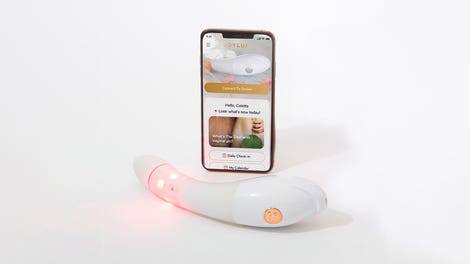 $50 Off
Joylux vFit Gold Device
Some of these groups have ties to Uganda, too, like Ed Silvoso, who works with Julius Oyet, the Ugandan author who claims that "even animals are wiser than homosexuals" and has been working to promote the Anti Homosexuality bill (also called the "kill the gays bill") in his country.
Should we expect Invisible Children's founders to explain their connection to the gay-bashing Bible Belt — perhaps particularly their connection to the Anti Homosexuality bill in Uganda — in their upcoming explainer video? Yes. But chances are they won't.
Invisible Children Funded By Antigay, Creationist Christian Right [Alternet]
Image via [Invisible Children]