After public outcry, irreparable brand damage, and some embarrassing executive doubletalk, Susan G. Komen for the Cure has just announced that they're reinstating funding to Planned Parenthood. But don't think for a second that this means they're free from a political agenda.
The organization released the following statement,
We want to apologize to the American public for recent decisions that cast doubt upon our commitment to our mission of saving women's lives.

The events of this week have been deeply unsettling for our supporters, partners and friends and all of us at Susan G. Komen. We have been distressed at the presumption that the changes made to our funding criteria were done for political reasons or to specifically penalize Planned Parenthood. They were not.

Our original desire was to fulfill our fiduciary duty to our donors by not funding grant applications made by organizations under investigation. We will amend the criteria to make clear that disqualifying investigations must be criminal and conclusive in nature and not political. That is what is right and fair.
Our only goal for our granting process is to support women and families in the fight against breast cancer. Amending our criteria will ensure that politics has no place in our grant process. We will continue to fund existing grants, including those of Planned Parenthood, and preserve their eligibility to apply for future grants, while maintaining the ability of our affiliates to make funding decisions that meet the needs of their communities.

It is our hope and we believe it is time for everyone involved to pause, slow down and reflect on how grants can most effectively and directly be administered without controversies that hurt the cause of women. We urge everyone who has participated in this conversation across the country over the last few days to help us move past this issue. We do not want our mission marred or affected by politics - anyone's politics.

Starting this afternoon, we will have calls with our network and key supporters to refocus our attention on our mission and get back to doing our work. We ask for the public's understanding and patience as we gather our Komen affiliates from around the country to determine how to move forward in the best interests of the women and people we serve.

We extend our deepest thanks for the outpouring of support we have received from so many in the past few days and we sincerely hope that these changes will be welcomed by those who have expressed their concern.
That's all well and good, but they're still lying. Although they've restored funding to Planned Parenthood, they've only done it after a category 5 shitstorm threatened to completely taint the brand. They're not sorry they pulled funding to satisfy a political vendetta; they're sorry they got called out on it, and I'm not sure that their brand isn't already tainted. Komen blatantly, obviously, and deliberately targeted Planned Parenthood. Their board room is still staffed with conservative donors and at least one vocal anti-choice politician. They're still a conservative political organization masquerading as a feel-goodery for people who just want to help cure cancer.
Women aren't stupid, though, despite the fact that the Komen foundation seems to think we are. Supporters of the organization are owed much more than a statement about how "hurt" Nancy Brinker and company are by the accusations that they're a political organization. They're owed evidence that Komen hasn't already evolved into a political instrument. And no such evidence exists.
G/O Media may get a commission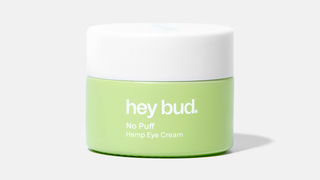 15% off
Hey Bud - No Puff Hemp Eye Cream
Komen apologizes for recent defunding of Planned Parenthood [Dallas News]