As you may recall, in penance for her pro-Israel Tweet, Kim Kardashian planned a trip to Bahrain to learn about the Middle East hawk some milkshakes. A faction of Sunni Muslim MPs had taken their issues with Kardashian's visit up with Parliament before her arrival ("she's an actress with an extremely bad reputation"), and when Kim touched down, all hell broke loose—she was met with screaming fans, angry protestors and cops throwing stun grenades and possibly tear gas, although there are conflicting reports.
To temper the media's angle, from the comments section of the Washington Post article:
This headline is so very bogus, you have about 50 protesters and thousands that come out to see her and actually paid over 1000 to see her and the headline is that she got an angry reception? [...] You get less than a hundred extremist protesting and that is the big story?
On the bright side, milkshakes are yum! [NYDN, Washington Post]
There was no tear gas, says Millions of Milkshakes rep. [CNN]
---
G/O Media may get a commission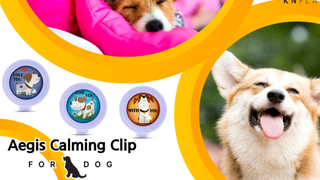 20% off
Aegis Calming Clip for Dogs
Like any 18-year-old boy and his new 22-year-old lady friend would, Taylor Swift and Harry Styles borrowed Harry Styles' hairstylist's baby and went to the Central Park Zoo. Which I'm sure is something they just decided to do on a lark, and has nothing to do with a PR team frantically scrambling to find a photogenic baby for them. How much does it cost to rent one by the hour these days? The soft spot on the back of their heads would be a great place to put my wineglass down. (Squint for sea lion photobomb.) [Just Jared]
---
A found poem gathered from snippets about Shania Twain's new show in Vegas, Still The One, at Caesar's Palace:
A pair of pink cowboy boots/
clad in a lacy black bodysuit/
she rode in on a high-flying bike/
dancing violinists and cellists/
pumped-in fragrances/
Wrangling live horses during/
two separate numbers.
[ABC News Radio, Express, Las Vegas Sun]
---
50 Cent is executive producing a Starz show called Power, which will "focus on a Gotham nightclub owner who treads the line between legitimate business and the criminal underworld." Which sounds a lot like Starz's show Magic City, but whatever? Fiddy also took to Twitter to reveal that the pilot writer is Courtney Kemp Agboh, an Emmy-winning writer on The Good Wife. [Variety, Twitter]
---
As Matt Lauer squirms on the NBC chopping block, his co-workers are coming to his defense; Al Roker says that rumors of Lauer's diva behavior are "a crock." He adds, "One day we were traveling, and I was sitting across from [Matt], and I look over and he's looking at his laptop, and he's crying. I'm like, 'What the heck?' He's watching The Notebook, and the tears are just flowing." [Page Six]
---