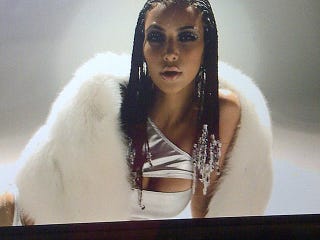 "I didn't mean to," Kim said to a crowd in Las Vegas on New Year's Eve, "but I did this song with The-Dream." Didn't mean to? Uh-huh. Yeah. Sure.
Come on. Nothing is an accident. Kim is crafty. She really is. She changes her story, her vibe and her angle as necessary. She went from "that girl getting it from behind in that sex tape" to, as the New York Post puts it, a "wholesome sex bomb." TV producer Mike Fleiss says: "I've never met her. I've never seen her show. And truthfully, I don't think there's a bigger TV star than Kim Kardashian." That is not by accident.
The biggest star is a work in progress, and a lot of the work is spin. Rumors fly about her dating this guy or that guy, yet her official stance is she has no love life and wants to be a mom. Recently, there was talk of adopting a child from Africa, but it's impossible to extract this tale from the fact that its appearance in the press coincided with her promotional trip to Johannesburg.
Consider this inconsistency, noticed by the folks at F Bomb Cafe: In an interview which appeared in Harper's Bazaar in April, Kim said: "I'm sorry I did Playboy. I was uncomfortable." In this month's issue of Glamour, Kim says: "[Posing for Playboy] was an independence thing for me… And I think it looks great. I'll have those pictures forever."
There's nothing wrong with changing your tune. Changing her mind is a woman's prerogative. But there is something disingenuous about her I'm-Not-Bad-I'm-Just Drawn-That-Way persona and a statement like "I didn't mean" to make a pop single with one of the hottest producers out there. Did she also accidentally get corn rows and accidentally get Kanye West to appear in the clip? Obviously not. And honestly, with her curvy figure, olive skin and dark hair, Kim is already popular over several swaths of races and ethnicities; the corn rows and the black boyfriends just hammer it home: Unlike blonde/blue-eyed country pop star Taylor Swift, Kim's all-American in a much more current sense, and she wants you to know it.

Funny how the last thing we're talking about is whether or not the girl can sing. That's because it doesn't matter much. She's got the look, the producers, the following. Even though you can barely hear her voice , this snippet of video already has almost 90,000 hits. Behold, Kim in Las Vegas, playing her new track, "Turn It Up," for the crowd.




If her song isn't the biggest hit of 2011, it won't be for lack of trying.
The Wholesome Sex-Bomb Soap Opera [NY Post]
Kim Kardashian Unveils First Single [VIDEO] at Vegas NYE Party [CBS News]
Hear A Poor-Quality Recording Of Kim Kardashian's Single, 'Turn It Up' [Vulture]
Kim Kardashian Debuts New Song [Just Jared]
Kim Kardashian Tries Out A New Look! [The Life Files]
Excuse Me, Miss, But Your Pants Are On Fire [F Bomb Café]
Rockin' My Bo Derek Braids! [Kim Kardashan's Twitpic]