Kim Davis has only been back at work for a week, but she's found a way to keep her spotlight. Not only has she had another complaint filed against her for interfering with her deputies' issuing of marriage licenses, but she also gave her first big interview to ABC, in which she made it clear that she has zero respect for gay people, including those she claims are her friends.
Davis, who's been accused of being many things—Rosa Parks and a jew living in Nazi Germany by her supporters; Hitler and homophobe by her detractors—says that while the names she's been called hurt, she's still humbled to be touched by the grace of God and is happy to do what she needs to be true to herself and the Lord. Not only that, but Davis has a message for those calling her a hypocrite for not issuing licenses to gay couples while having been married four times and engaging in adulterous relationships: "I'm forgiven," she said. "Washed clean."
With her attorney by her side, Davis spoke to Paula Faris about the difficulties she's faced since refusing to do the job she was elected to do and why she would continue to fight things that went against her conscience. And Rowan County residents, many of whom are already embarrassed for having voted her in, will be pleasantly surprised that Davis thinks she's "good at her job" despite the fact that she's caused a national media uproar due to the fact that she's been refusing to do it. And while Davis does agree that, yes, she does have to do the work she was elected to do, she says that she answers to a higher power than the people above her and that "trumps" her responsibility to her constituents.
The most interesting (read: disgusting) moment of the interview occurred when Faris spoke to Davis about a man who claimed that he finally felt like a human after receiving his marriage license. Davis' response was predictably blood-boiling:
"I don't think dignity is guaranteed in the Constitution. I think dignity is something that you find within yourself," Davis said. "I feel really sad that … someone could be so unhappy with themselves as a person that they did not feel dignified as a human being until they got a piece of paper. I mean, there's just so much more to life than that."
G/O Media may get a commission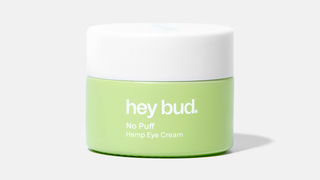 15% off
Hey Bud - No Puff Hemp Eye Cream
I mean, right? Kim Davis has four of those dumb pieces of paper and she doesn't feel any different. Kim Davis has gone to jail for refusing to issue those same pieces of paper to gay people like the one mentioned above, and she still doesn't understand why being denied one would make someone feel like they're a second-class citizen. There is more to life than getting married, sure, but Davis doesn't seem to understand why civil rights are important. Nor does she seem to get that claiming that "dignity isn't guaranteed by the constitution" goes against everything her supporters have said about her plight. Or maybe Davis just doesn't think that minorities are guaranteed dignity by the Constitution? That could be possible, especially considering that Davis doesn't have the experience of bering a minority—no, being born-again doesn't count—and claims that her gay friends respect her decisions. Although, I'd hate to be a gay person supporting Davis' decision to continue refusing to honor my rights as a human being. That sounds like someone who's a little unhappier with themselves than the man Davis accuses of self-loathing because he wants to be treated as equal.
Davis is grateful to her supporters, although she doesn't really understand what all the fuss is about. "I'm just being me," she told Faris as if she were being interviewed about having a really quirky personality instead of her choice to openly discriminate against people whose relationships aren't "valid in God's eyes."
Now that she's back at work, Davis has wasted no time in continuing to humiliate those Rowan County residents she just doesn't feel like marrying despite being so good at her job. The ACLU has already filed a complaint against her for tampering with marriage licenses and making them legally questionable, despite the fact that she was ordered not to meddle. Davis' actions since her release have included her confiscation of all current blank licenses and the removal of her name, Rowan County's name, and the name of Brian Mason, the clerk who's been issuing licenses in her stead. The new licenses now read "pursuant to federal court order" in the space where the county clerk's name should go.
From The LA Times:
But on Monday, lawyers for the American Civil Liberties Union wrote that the validity of the altered licenses is "questionable at best," and that the new licenses bring "humiliation and stigma" to the gay couples who receive them. They asked U.S. District Judge David Bunning to order Davis' office to reissue the licenses. If Davis interferes, the lawyers say Bunning should place her office in a receivership for the purposes of issuing marriage licenses.


"The adulterated marriage licenses received by Rowan County couples will effectively feature a stamp of animus against the LGBT community, signaling that, in Rowan County, the government's position is that LGBT couples are second-class citizens unworthy of official recognition and authorization of their marriage licenses but for this court's intervention and order," the lawyers for the couples wrote in a court filing.
Perhaps after watching Davis' ABC interview, the couples who are questioning the validity of their licenses—the ones they've fought hatred and humiliation to obtain—will withdraw their complaint and find the dignity within themselves to continue being treated as less than.
---
Contact the author at mark.shrayber@jezebel.com.
Image via Getty