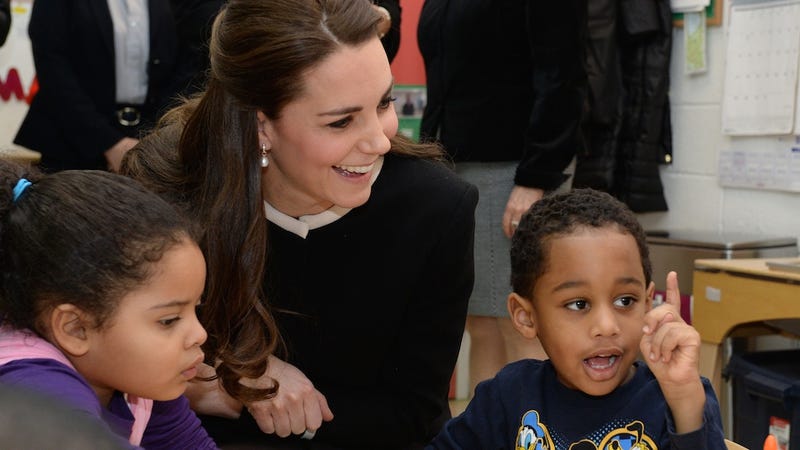 The Duke and Duchess of Cambridge are currently prowling New York City, snarling traffic and collecting rubberneckers, and this morning Kate stopped by Harlem's Northside Center for Child Development. But when the staffers told the kids they'd get to meet a princess, naturally they assumed it was either Anna or Elsa from Frozen.
Sorry, Kate. England's monarchy just can't compete with the mighty Disney marketing machine.
When the Post visited the center last week, the kids were readying their gift for Middleton with some very specific ideas about what to expect: "They think she lives in a great big castle like Elsa from 'Frozen' . . . They think she's going to be wearing a dress with big buttons," said teacher Kenia Paulema-St. Jean. (Well, her coat was pretty mod looking.) And the Telegraph reports from her visit this morning:
Rose Ann Harris, director of early childhood services at the Northside Center for Child Development, said of the children: "They thought she was the Princess from Frozen.

"When they heard she was coming they thought it was Elsa - we said a Princess and they got a Princess."
Kate just rolled with it, says Us Weekly:
The Duchess was told in advance that the children liked Disney's smash animated flick Frozen, which she used as an opening line for conversation.

"Do you really like Frozen?" she asked several kids.

The pregnant royal then turned to a boy named Sammy, whom she tasked with putting stickers on his friends.
Besides, it was cold as a witch's tit in New York this morning. Close enough!
Image via Getty.