There's a lot more to Pam Grier than stories of cocaine vaginas. As an interview with the Times today confirms, Grier's emerged from a life "more interesting and dangerous than some of the movies I've done" a strong, resilient woman.
At 60, Grier's life has included being a female action icon, a sex symbol (for women and for men), a farm girl and equestrian, a sexual assault survivor (she was assaulted by two boys at the age of six, and later endured "date rape," as the Times describes it), a survivor of cervical cancer (during which her partner abandoned her), and often-troubled relationships with famous men like Kareem Abdul-Jabbar, Freddie Prinze, and Richard Pryor.
Although the blaxspoitation movies that made her famous positioned her as the height of assertive sexiness, Grier says her post-assault trauma made her "very quiet" and gave her a stutter. For years, "she tried to play down her prettiness."
Why write a book now?
"I've had mentors who know of my legacy and family history, along with my career in surviving and falling, crawling and learning, and being very, very open and curious," she explained. "I said, 'If I do it, I want it to be a work of lessons learned that I can share with others.' You seek help. You seek friendship."
G/O Media may get a commission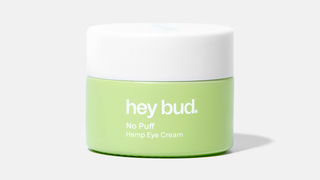 15% off
Hey Bud - No Puff Hemp Eye Cream
Blaxspoitation films were controversial, then and occasionally now, but Grier sees her most iconic roles as representing the female role models in her life:
"My aunt was Foxy Brown, and my mom was Coffy, and we were constantly struggling against disrespect," she said.
The president of the Black Filmmaker Foundation tells the Times that Grier "exists in the American imagination in a way that is permanent. She represents a self-reliant, dynamic female figure that doesn't have to forgo femininity for potency, for militant power." And Mia Mask says in NPR, "She belongs in the pantheon of radical 1970s film stars responsible for the shift away from women as passive sexual objects to women working as active subjects propelling the narrative."
Says Pam herself,
"We had won so many aspects of civil rights, but we didn't have a large enough community to lose people to gun battles and drugs," she said. "We had to show we had a positive community, too, which was something that didn't get on the news."
If you missed it yesterday, here's Pam kicking ass on The View.
Here's the famous lesbian bar fight scene from Foxy Brown:
And some highlights from Coffy:

Pam Grier's Collection of Lessons Learned [NYT]
Pam Grier: Part Foxy, Part Feminist, All Sexy [NPR]
Earlier: Pam Grier Declines To Discuss Her Alleged Cocaine Vagina
The Truth About Cocaine Vaginas