In an interview with Redbook, Khloe Kardashian klarified that she is not jealous of Kim for getting pregnant with the Kimye-by and that just because she has fertility problems she isn't the jealous, spiteful baby monger tabloids say she is.
"People assume I'm desperate for a baby," she says. "And yes, I would love to have a baby. But I'm 28, and I've been married three and a half years. I love my life, but it doesn't feel incomplete right now. Please. People want to assume that I'm devastated [about Kim's pregnancy]. I couldn't be happier. I actually got mad at Kourtney, because she was afraid to tell me at first. So I get why people think I'm hurt, because my own sister thought I would be.

I do think [sharing] my difficulty getting pregnant has helped a lot of women...Do I wish people would quit asking me about it 24/7? Yes, but I don't regret [talking about] it. I was 26 when that started, and I admit, I didn't know a lot about my body."
[NYDN]
---
Gwyneth Paltrow has turned her home with husband It Was All Yellow into a Subway sandwich restaurant. Just kidding, a royal fortress of superiority.
TMZ has learned ... one of Gwyneth's Brentwood neighbors claims she and hubby Chris Martin built a 9-foot-tall gate in front of their mansion — WAY ABOVE the legal limit of 6 feet — and it's an eyesore.The angry neighbor says no other residents — including fellow celebs [like Harrison Ford] — have gates over 6 feet tall, so why should Gwyneth?
G/O Media may get a commission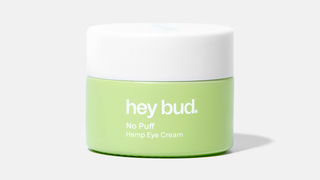 15% off
Hey Bud - No Puff Hemp Eye Cream
"Why should Gwyneth—?!?!!" Jesus Christ, EDUCATE YOURSELF. [TMZ]
---
Julia Roberts (hereafter referred to as Star Teeth to save time) hates the shit out of the guy her sister Nancy Motes is marrying and doesn't want to give them any money. Star Teeth thinks the dude is a freeloader who intends to live off Motes' paychecks—S.T. got her a job as a production assistant for Glee. Aside from the scrub fiance, they seem to have a great relationship:
In 2005, Julia "exploded" when she caught her little sister snapping photos of her newborn twins, and in 2011 they got into an argument went Julia made "disparaging" remarks about Nancy's weight.
More importantly, is that really the best job Julia fucking Roberts could get a family member? Freshening Matthew Morrison's Jheri-curl? [Radar Online]
---
Florence Welch accidentally acted out a Portlandia sketch. Thus, the hazards of wearing anything your great-uncle might describe as "doodads."
"Florence was outside the Standard Grill with friends when she became entangled in the furniture. Her strings and tassels were stuck... she tried to walk away, but the dress started dragging the chairs with her."
[Page Six]
---
Surfer Bethany Hamilton is engaged. [People]
Ali Lohan doesn't coast on big sister Lindsay's fame - she just "shows up on time," which feels like a passive-aggressive dig at Lindz. [Us Weekly]
Meanwhile, LiLo gets up at 6:30 and does chores at Betty Ford like everyone else, ostensibly. [Radar Online]
Tiger Woods got shitfaced at the Met Gala and embarrassed Lindsey Vonn. [Us Weekly]
Rihanna said that Nicole Richie's Met Gala outfit made her want to throw up (she meant it in a good way). [Us Weekly]
Young models and Alexander Wang hang out in the women's bathroom at the Met gala/where the real party is. [Page Six]
There were Airheads at Mama June's wedding. I haven't had an Airhead in a goodly ten years. Jealous. [TMZ]
Reese Witherspoon's stepmom is a dick. [Radar Online]
Chris Brown's plane made an emergency landing and the cockpit was filled with smoke. Scary. [Access Hollywood]
Someone's gotta teach that Justin Bieber whippersnapper a lesson, say L.A. cops. [TMZ]
Blake Lively wore a really, really cute coat at some point recently. [People]
Ryan Seacrest and Julianne Hough are dramatic. [Page Six]
Britney Spears and her kids ran away from the Calabasas wildfire. [Page Six]
THIS PICTURE OF SIR PAUL MCCARTNEY BEING ATTACKED BY GRASSHOPPERS. [Express]