On this week's episode of Keeping Up With the Kardashians our A-Plot was Khloe and Rob's tense relationship; our B-Plot was Kourtney's birthday; and our C-Plot was Kanye West's video shoot. Follow me, dolls and #LEGGO!

Scene 2: Filmed on May 17, 2016
At Khloe's house, she's visited by her eldest sister, Kourtney Kardashian. Kourtney seems to be interrupting Khloe's Olympic Dive training session with her passed down dog, Gabbana. Completely chilled and blissed out, Kourtney asks Khloe if she's told anyone of the Rob baby news. Khloe, baffled, asks "Who would I tell?" Not only does Khloe not want to pass on the embarrassing news just yet, but she also doesn't want to be seen as a snitch for the family since she's not trying to be associated with the drama surrounding Rob and Chyna. As for Kourtney, she still believes that Rob's non-traditional life path is "God's plan" and that children are a blessing. So, basically, she doesn't care. Still, Khloe's more disappointed in being cut out from Rob's life than she is about the baby or Blac Chyna. The good news, however, is that Khloe doesn't have to worry about telling her friends of Rob's pregnancy because this scene was filmed on May 17, 2016, 11 days after the news was released to the public. Oh, and she also was implicated as being a snitch along with the rest of her family. Time sure flies when you're outing your brother's baby news, right?
G/O Media may get a commission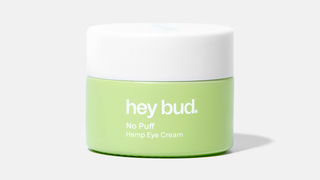 15% off
Hey Bud - No Puff Hemp Eye Cream
Khloe chats with Lamar in the backyard of her house. The conversation is friendly, with Khloe first asking The Miracle Worker's greatest hit about his weight. Khloe suspects Lamar weighs 300 pounds. He really weighs 260, but wants to get down to 245. Thankfully he weighs something, amirite!? After discussing his diet, which is basically candy and strawberry shortcakes, Lamar asks Khloe about Rob. Khloe immediately becomes frustrated because she hasn't spoken to her brother since he dropped the baby news. She's also heard that her brother has made a point to disconnect from Khloe specifically, because he's been communicating with everyone else in their family. Lamar doesn't quite understand Khloe's frustrations and just wants Rob to be focused because "marriage ain't easy." You don't say, Lamar, you don't say. In a very cute but awkward moment Lamar and Khloe laugh about how uneasy their marriage was. Moving forward from this, Lamar tells Khloe to call Rob, and she does. As the phone rings she's confident he won't answer, but twisting up the whole storyline, Rob picks up! The conversation is mainly between Rob and Lamar, with Khloe acting as a human tripod to connect the two long lost brother in laws. The talk is sweet, with Rob and Lamar agreeing to grab a meal later that week. This scene was filmed on April 19, 2016.
In Reykjavik, Iceland, a city far away from Calabasas but containing many of the same inhabitants, Kourtney Kardashian, Kimberly Kardashian, Kanye West, Jonathan Cheban, Simon Huck, and a friend of Kourtney's, Nicole Reda, visit a tomato farm. The group traveled all this way to celebrate Kourtney's birthday and support Kanye West as he films a music video for his song "Highlights." Kim thought a tomato farm, where everything is frothy and absent of vibrant color, would be a great stop for Kourtney, since she likes organic things. The tomato farm is fun enough for Kourtney, but she's a little homesick and missing her kids. Kim and Kanye don't mention their children at all, but Kanye does dissect the woes of riding in a helicopter and making visually stimulating music videos. Kanye doesn't think people appreciate the art of music videos anymore, so he jokes that he might just start doing green screen videos. After their tour and meal at the tomato farm, put upon artist Kanye West, graciously takes a photo with an Icelandic fan as they board their SUV. This scene was filmed on April 17, 2016.
While still in Iceland, Kourtney, Simon, Jonathan and Nicole take in a meal. Jonathan and Simon immediately bring up a TMZ video they saw of Rob Kardashian talking normally and freely at LAX. Kourtney hasn't seen the video, but they all agree that Rob is doing much better. As someone who should know all the fresh and re-steeped tea, Simon asks Kourtney just why the whole family hates Blac Chyna if she's done so much good in Rob's life. Kourtney explains that the main reason Chyna has shifted into the danger zone is because of her actions towards Kylie. However, Kourtney understands why Chyna is upset over her fiancé and baby's father leaving her for a friend's sister, so it's all really unfortunate. She also tells the group that she, Scott, Tyga and Chyna used to do couple and family dates when everyone was still together. So, basically, Kourtney is in alignment with God's plan and agrees with her friends who hope Rob and Chyna get married because Rob is (and the wedding will be) "wild." This scene was filmed on April 19, 2016.
On the day of Kourtney's actual birthday, she sight-sees in Iceland with her sister Kim and their friends. The group takes in mountains from inside their bus, churches, and hotdog stands, and fans gathered to sing Kourtney "happy birthday." Kourtney is enjoying her chill day and isn't even pissed that Scott sent her flowers. Kim promises Kourtney a gift, but says that it's not fit to be given at a hotdog stand. Sadly, the gift Kim got Kourtney was never revealed on camera. Kourtney's birthday was filmed on April 18, 2016.
Scene 21: Filmed on April 18, 2016
On the evening of Kourtney's actually birthday, she and her friends travel to see the Northern Lights. Kim and Kanye don't stick around for long because Kanye is "disappointed" in Kim for not making it up to the top of a glacier in time to see him shoot his music video. So, because her boo is saltier than a Lay chip, they go sit in the car and then head to the studio where Kanye is recording. Kourtney doesn't really miss their presence at all, even though she saw approximately zero Northern Lights. Like Scene 15, this scene was filmed on April 18, 2016.
At Khloe's house, Khloe relaxes in her theatre room when Lamar and Rob enter. Khloe, who presumably hasn't seen Rob since his pregnancy announcement, is once again awkward around her younger brother. Lamar orchestrated this meeting because he thinks they should easily be able to patch things up. Khloe's not really feeling either one of their presences especially when Rob suggests that Khloe and Lamar have dinner with him and Chyna. As she should, Khloe tells her little brother that she's not going from "A to Z" with Chyna. Before a double date moment can even be a thought for her she's going to need to have a private chat with Rob to work through their issues. Khloe also doesn't take kindly to Lamar's hacking coughs, which are direct result of his smoking. She also mentions Lamar's drinking, which has recently gotten more out of hand. So, it's really not the right time for either of them to be asking for favors. Still, Khloe is happy and looks comforted by having Rob and Lamar back under her roof. As evidenced by Khloe's sweet and hopeful Snapchat, this scene was filmed on April 28, 2016.
This shared moment has been super chill between us, Dolls, but alas ya' girl has to leave this space. Catch me next week for another KUWKhloe And Lamar on E! re-cap on #KUWTKE. #MarriageAintEasy

---
Mariah Smith is a writer and comedic performer who keeps up with the Kardashians. For more Keeping Up With The Kontinuity Errors, click here. You can follow her on Twitter @mRiah.

Images via E!