Imagine this: you are at home, cycling through another mind-numbing collection of Youtube beauty tutorials, and there is a knock at the door. Who could it be, the mailman? A neighbor asking for a cup of beans?
No, it's Matthew McConaughey, holding a frozen turkey.
"Come here, come here, come here," he says. "How you doing? You know what this is? It's a turkey."
That's exactly what the actor did when he just casually rolled up to some strangers homes recently. And if you think McConaughey was just showing off a frozen turkey in his possession, bragging even, think again: he was giving them out as gifts ahead of Thanksgiving. The giveaway was connected to McConaughey's work as a Wild Turkey Distillery spokesperson, which I'll remind you sells bourbon, not turkeys. CBS News reported that he drove around Lawrenceburg, Kentucky, giving out 4,500 turkeys along with volunteers for "Thanksgiving and gratitude."
"We believe in our family that the more you're thankful for, the more you're going to show gratification for, the more you're going to create in your life to be thankful for," McConaughey told CBS News. "I think it's kind of scientific, and here is kind of living proof of it."
G/O Media may get a commission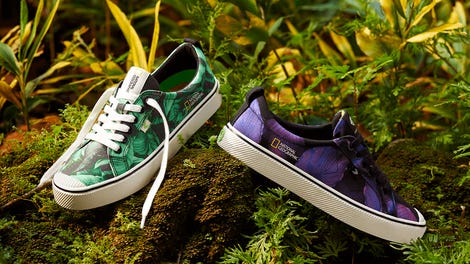 New New New
Cariuma + National Geographic
Below is a video of the man surprising people with turkeys, none of whom are unfortunately me, someone who would love to be surprised one day at the door with Oscar-winning actor Matthew McConaughey holding a turkey.