In reports published Thursday by TMZ and The New York Times (don't you just love when celebrity gossip falls all over the media spectrum?), it has been revealed that while things over at ABC are as tense as previously believed (perhaps even more so), the reasons for those tensions are a little more complicated than we originally thought.

The New York Times reports Kelly Ripa was invited to a meeting for which "she did not know the purpose" on Tuesday morning. After waiting 20 minutes, Michael Strahan showed up and announced his departure. This, obviously, is where things got heated.
They write:
"Didn't I tell you this was going to happen?" Ms. Ripa said to [network manager] Mr. Davis at the meeting, according to the person. "I told you two years ago this was going to happen."

A few minutes after the meeting ended, ABC publicly announced Mr. Strahan's departure. Ms. Ripa later let the network know she would not appear on Wednesday.
Ms. Ripa was angry, this person said, because she perceived that "Good Morning America" was being given priority over "Live."
So though she was blindsided by the news in that she didn't know the exact date Strahan would announce his departure, she had seen it coming—and had been trying to warn Disney/ABC that Strahan had one foot out the door for years. And though she was angry about being left out of the loop for the second time (the Times also reports Regis Philbin didn't tell her he was leaving until 20 minutes before revealing it on-air), she didn't take all of the time off work to pout. She had already planned to be out Monday because it's her 20th wedding anniversary, and Friday the show wasn't scheduled to tape. So it's really just Wednesday and Thursday she's missing.
TMZ expanded on the report she has no intention of leaving the show by claiming she needs the money, writing:

Our sources say ABC brass isn't worried that Ripa will bail on the show. We're told she makes just shy of $15 million a year, and her lifestyle eats up most of it. Kelly and hubby Mark bought a big townhouse on the Upper East Side of NYC a year ago, and they have a mansion in The Hamptons.

As one source put it, "She makes a lot of money, but she spends a lot of money, and so does he."
G/O Media may get a commission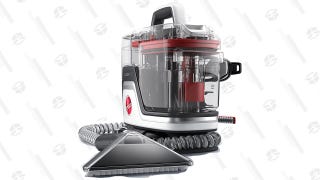 Save $10
Hoover CleanSlate Plus Carpet & Upholstery Cleaner
So there you have it. Kelly Ripa is mad because people keep leaving her out of the loop, but she'd rather chill with her husband of 20 years and continue living the life of luxury than quit her show over it. I get it.
---
Here's an awful story: Jim Marchese, a former cast member on Real Housewives of New Jersey, was arrested for "choking his cancer-stricken wife" Amber while on an airplane.
In a statement to People, police at LAX wrote:
"At the request of officers, a male suspect and a female victim left the aircraft. Additional questioning revealed the suspect had grabbed the victim by the throat and made threats against her."
Amber has been battling cancer since 2009.

[People]
---
Juliette Lewis is dating some guy from Rage Against the Machine. Is that weird or expected? I don't know. Whatever. The point is, when someone mentions Rage Against the Machine I always remember being at my angsty cousin's house when we were both 13 or 14 years old. While putting on a CD, he asked if I "had rage against the machine."
Because I didn't pay attention to music at the time, I thought he was talking about "the man," so I responded, "Not really."

---
---
Image via Getty.