Beware a jewelry company with a play on words in their slogan.
BuzzFeed has a report on this alarming new trend in lost and/or ruined engagement jewelry. A woman named Nicole Largent tells the story of her custom-designed Kay Jewelers ring, worth more than $21,000. Her husband bought Kay's extended service plan to maintain the expensive piece of jewelry, which meant they had to bring the ring in every six months to be inspected for loose stones.
When the Largents brought the ring in for inspection for the first time, a Kay worker said a stone was loose and "sent the ring in to be fixed." Soon after, it "disappeared." An employee said that it'd been sent to Jared and vanished after that. (Kay Jewelers also owns Jared.)
"It's really devastating, because we could get a new ring, you can get new jewelry, but you can't get back your original," she said.
And Nicole's not alone. Kay's Facebook page boasts a number of disgruntled brides and grooms who say the chain has ruined or lost their expensive jewelry after pieces were brought in for repairs. When asked for comment, Kay spokeswoman Kimberly Kanary (of course she'd be named that) said:
As part of our dedication to our guests, we provide inspections on jewelry under warranty every six months. Guests are required to bring in the proper paperwork to be validated at each inspection so that we can be sure that we are keeping an accurate record of service. Upon completion of inspection, each guest will receive an inspection record document that they are able to take with them and keep with the original guarantee paperwork.
G/O Media may get a commission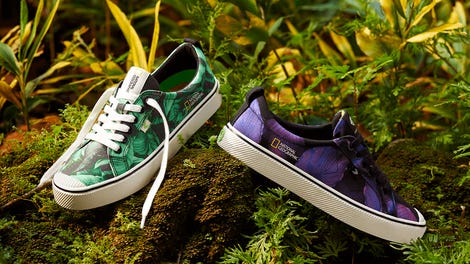 New New New
Cariuma + National Geographic
But BuzzFeed's also gathered complaints from consumers who say they brought their rings in for inspection and repair—only to be given a crappier or smaller diamond when they picked the piece up.
One bride says she had the extended warranty package and lost her center diamond at a baseball game, and that Kay—after telling her, perhaps incorrectly, that she'd voided her warranty by not coming in every six motnhs—replaced it with a crooked stone with a flaw called an inclusion.
Another customer named Ashley Brown said Kay replaced her center stone with a "visibly smaller diamond," and then tried to convince her that it was the same size.
"I started to leave and then went right back into the store because I could see a drastic difference in the look of the ring, this one looking much smaller and all around not as nice as my original," she said.

The workers seemed confused as well, and they even asked Brown, who said she bought the extended service plan, if the rings were the same. Suddenly, though, she said they changed their tune and started telling her the rings were the same quality.

"I started to think maybe I was wrong, so I reluctantly took the new ring," she said. She turned in her original. "When I got back home I showed everyone and they were all shocked at the difference and said I was right and needed to go back and get my old ring," she said. So she went back and exchanged the new ring for the old one.
Maybe skip Kay altogether, it seems.

---
Image via screenshot/YouTube