Because apparently Katy Perry's life doesn't have enough of a magnifying glass on it right now, her father, Keith Hudson, recently went on a rant about Jews and...wait for it...their love of money.
Hudson told worshippers:
"You know how to make the Jew jealous? Have some money, honey. You go to LA and they own all the Rolex and diamond places. Walk down a part of LA where we live and it is so rich it smells. You ever smell rich? They are all Jews, hallelujah. Amen."
He also vaguely touched on his feelings about having a daughter who is, well, Katy Perry:
"People say 'How is it you have a daughter raised in the church and she sang 'I kissed a girl and liked it'? I say 'I don't know'. "We live by the Gospel, not off anyone else, even though you may say 'You are the parents of Katy Perry, you must be rich.' No, she is, I am not, hallelujah."
G/O Media may get a commission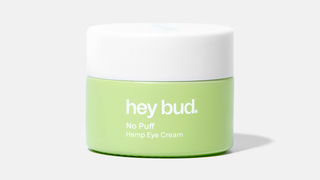 15% off
Hey Bud - No Puff Hemp Eye Cream
I'm not going to try to make sense of either of these quotes in the same way you wouldn't try to make sense of some weirdo spouting hateful shit on the subway. That's just who he is and thankfully, you can get off the train soon.
In related news, Jimmy Fallon seems to be getting a lot of mileage out of his Russell Brand impression. [Perez]
"That night, I then go home at 4 o'clock in the morning and realize I don't have a flashlight. And as I'm going up, I get to the point where I realize I can see nothing...I hear, totally serious, two big breaths, and six feet above me, I see the very slight glint of the eyes of a huge [mountain lion] and I literally proceed to do what I had just read in the instructions. And I started screaming and yelling and literally being as crazy as I could be, it padded off and just slowly went away and I worked my way into the trailer and I got in and I decided at that moment that this woman was the woman for me." —Josh Lucas on how he knew his fiance (who remains nameless) was the girl for him. A trip to Big Sur/mountain lions will do that to you. [E!]
Betty White will be hosting a new Candid Camera-style tv show. [ONTD]
Adele's single 'Rolling In The Deep' has been on the Hot 100 for an entire year now. [Perez]
"When I was 14 and 15 things were happening to me. These older men were leching around like vultures. It was basically me laying there pretending I was asleep and them going about their business. I will write a book - I will put all the information forward." —Corey Feldman on the abuse he endured as a child at the hands of "sick perverts". [Sun]
Isaac Mizrahi recently revealed that he wed his longtime boyfriend back in November. [ONTD]
And Casey Anthony revealed a vaguely hipstery look in her new video diary. [E!]