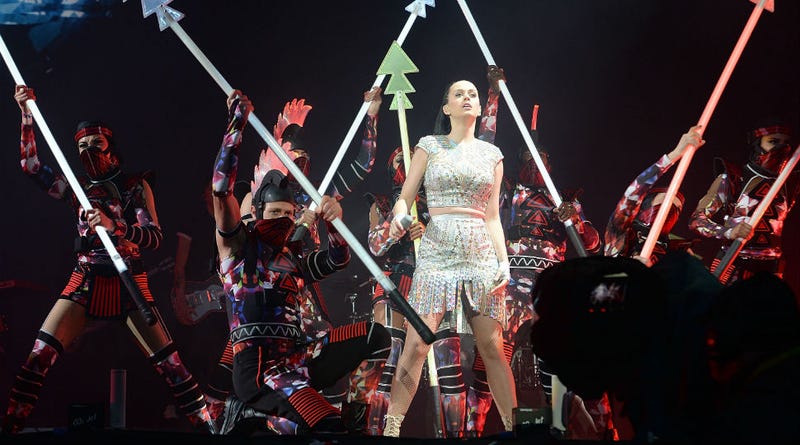 Katy Perry is on the cover of July's Cosmopolitan (the first ever "International" issue, apparently) and in the magazine she sits down with Chelsea Handler for a one-on-one about everything from her choice in men to how often she Googles herself.
Handler (who is interested in is not interested in is maybe interested in totally does not give a shit about taking over for Craig Ferguson when he leaves CBS) did her typical brand of casual celebrity name-dropping ("Sia is a good friend of mine) and managed to ask a few questions that are sort of interesting:
Handler tackled Perry's two high-profile romances: "You were married to (Russell Brand). Then you broke up and started dating John Mayer. These are two men that most people would say, 'If you're not going to date two people in this world, it should be these two.'" One day these words will be carved into a monument to commemorate their truthiness.
Handler also asked Perry how often she Googles herself:
I go through phases. I wish there was a Google rehab. It's not that I do it a lot, it's just when I want feedback on something I did. If I'm putting out a new record or video, I want to feel what's going on—take a temperature of the world and see if my ideas are working. I'm very analytical in that way. I'll check a few websites and my replies on Twitter. I want to hear from the kids who follow me more than I want to hear from some biased, boring, bougie blogger.
BRB CRYING.
Image via AP Images.