Awwwww, Suri! I mean, no duh. But also, awwwwwww! Katie Holmes says 6-year-old Suri is having a hard time following her parents' sudden and much-publicized divorce. "She said the divorce has been hard on Suri and she's acting out," says a source.
Explaining that she's no longer "afraid to fail," Holmes said she's been trying to impart the same attitude to her daughter via arts and crafts projects, which don't always turn out as planned.

"At least you tried," the Holmes & Yang designer said of their creative endeavors (which included gussying up an old shoe rack with spray paint). "I think, 'Oh, I'm a great mom' and then it doesn't pan out the way I think it's going to...But the intention's there."

...Says an insider, "She wants [her] to fit in and be more of a normal kid."
You know, I'm rooting for Suri. She's no Best Celeb Baby Ever™ Violet Affleck, but I like her and I like Katie and (BOMBSHELL) I even like Tom. Best of luck to everyone. (Sorry, I know that picture is like...five years too old? But for some reason baby pics are all I can find right now. And it's cute! ROLL WITH ME HERE.) [Us]
---
Eddie Vedder would like Mitt "Meltaway" Romney to know that without the government there would be no Pearl Jam:
Vedder told the audience that he struggled as a young man and credited a government training program with helping him learn the skills he needed to become a security guard in San Diego, a job that helped support his rock 'n roll ambitions.

"It was that job that allowed me to also afford the guitars and tape recorder and microphones I needed to let me afford keep working on music," he said. "It was also the job I reluctantly left to move up to Seattle for less pay, in order to join a band. It all worked out."
G/O Media may get a commission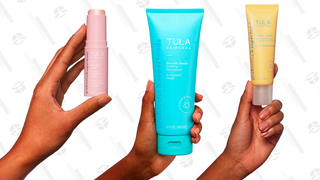 Vedder also used the word "ginormous." I will overlook it. [Yahoo!]
---
Good Morning America's Robin Roberts underwent a successful bone marrow transplant for a rare blood disorder. Roberts went in for the transplant less than a month after the death of her mother.
"This journey is as much about the mind as it is the body," said Roberts, 51, sitting on a hospital bed and wearing a bright pink baseball cap.

"Your thoughts are so powerful. You've got to change the way you think in order to change the way you feel. And let me just say this lastly, I feel the love and I thank you for it. Thank you," she said.

"Medically speaking, she is doing fantastic," [her doctor, Gail Roboz] said on "GMA."

But the doctor added sadly, "I think she misses her mother."
Oof. [NYDN]
---