The Katie Couric talk show we've all been waiting for, all our lives, forever, has debuted its new theme song, written and performed by none other than Couric's friend Sheryl Crow. The Grammy winner talked about what went into penning the theme song for Katie:
Katie is somebody I can talk to about the things so many of us juggle: our children, careers, health, and balancing our personal and professional lives. Plus she is really fun! I think her show will reflect the same kind of heart and energy I try to give my music, so 'This Day' was a fun project to work on together, as friends.
"Plus she is really fun!" would be a great epitaph, original punctuation (and lack thereof) completely intact. ARE YOU READY FOR THIS DAYYYAYAYY? No. [KatieCouric.com]
It's been revealed that two of the regular segments on the show will be called "Women Who Should Be Famous" and "YOLO." The first woman profiled as someone who should be famous will likely be a woman who has no idea what YOLO is but thinks Katie Couric made it up. [NYDN]
Also, George Clooney, if you are reading this, K-k-k-Katie is open to tapas and sex sometime. [WSJ]
---
G/O Media may get a commission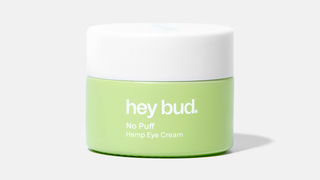 15% off
Hey Bud - No Puff Hemp Eye Cream
In what could only be called Nancy Drew and the Case of the Worst Timing Possible, Rupert Sanders' wife Liberty Ross gave an interview a few weeks before his affair with Kristen Stewart was revealed, and it talks about overcoming "the hard times" in their marriage and what she gave up for him:
I romanticized domesticity for a while, and loved having a shopping list of groceries stuck to the fridge for the first time," she said. "But moving here and starting a life all over again was a lot harder than I had anticipated. I just didn't think it would be as isolating and daunting as it turned out to be... I would never say out loud that I am raising my children alone, but a lot of the time it has felt like that.

I went from the glamour of working with Karl Lagerfeld and John Galliano to living on an isolated hilltop, with my husband gone most of the time, but that's why everything feels so amazing now. We rode through the really hard times and we stuck it out.
Is this reminding anyone else of the Sex And The City movie when Carrie poses as a bride for Vogue and then Mr. Eyebags doesn't show up and the magazine comes out, except worse? [NYDN]
Two months ago, Kristen Stewart was seen taking Rupert Sanders' daughter out for ice cream. [Celebrity Dirty Laundry]
Also, here is some very important body language analysis. [NYDN]
And, Snow White and the Huntsman co-star Charlize Theron is fuuuuuurious. [Radar]
---
Former Miss Nevada Caleche Ranae Manos and her fiance are suing the Los Angeles county sheriff's department for busting into their Santa Monica apartment waving guns and scaring the shit out of them.
The two had been sleeping (Manos was naked) and were forced out of bed by the all-male cop squadron in "a rough and rude fashion" before the police realized they had the wrong apartment. When they did, in lieu of apologizing, they joked that the couple would have a good story to tell over Thanksgiving dinner. [Daily Mail]
---
For further proof that Kris Jenner is a neo-Mama Rose on steroids, Kourtney Kardashian is furious at her mother for attemtping to make money off her new baby Penelope basically from conception.
Supposedly, "the last straw was when Kris wanted to take pictures of the baby during the birth, while she was coming out," ostensibly in order to sell them to the press. Just a helpful reminder that there's less air in the world because all people breathe it. [Radar Online]
---
What would you do if you were on a 12-hour flight from Australia to LAX with Justin Beeebo (besides finding that any ailments you had previously were suddenly cured and your hair was more lustrous)? Would you chide him for bandying about cuss words and being rude with his entourage? Some lady did—a mother of 2, say tabloids—and he immediately quieted down. Cool story, bro. [TMZ]
---
The late Whitney Houston yanked on a woman's ponytail at the movies one time. [The Sun]