Currently screening at Sundance: Miss Representation, a documentary about how women are represented in the media, which features feminist critics alongside celebrities like Katie Couric and Margaret Cho. Let's check out the trailer.
The trailer begins with Blake Lively licking her finger and then moves between cable news fails, high school girls talking about the pressures they feel, and the thoughts of high-profile interviewees like Katie Couric and Jane Fonda.
To regular readers of this site, this will seem like pretty basic stuff, but if the film brings a message of feminist media criticism to a broader audience, that's great. Still, the trailer paints a rather broad brush (and yes, trailers are wont to do this — we'll reserve final judgment til we see the actual movie), seemingly uncritically describing all public displays of sexuality as inherently demeaning. It's not that Britney Spears has nothing to do with how female politicians are treated on cable news, but conflating voluntary displays of sexiness in entertainment with demeaning sexualization of public figures, played over ominous music no less, is unnuanced. So are the vague references to "the media" and "Hollywood" as faceless, catchall entities.
Katie Couric wonders in the film whether she's partly to blame. "It is something I do worry about, that I started the thing with the legs. I look back at some of my 'Today' interviews and my skirt was way too short," she says.
Speaking of sexualization of female politicians: the topic was broached at a recent event on women, power and politics with No Excuses author Gloria Feldt, congresswoman Nita Lowey, Nation columnist Katha Pollitt, and Big Girls Don't Cry author Rebecca Traister. Lowey said the tone and scrutiny have worsened for women in politics since when she first entered Congress. And Pollitt called out this very site, which she thinks women should read, except that she wonders whether coverage of pop culture and fashion's negative messages also end up reinforcing them.
But the reality is that very few people live in a world where they are not continually exposed to said messages, and the editors of this site believe remaining passive is what truly reinforces them. Moreover, pop culture and fashion don't have to be repositories for these negative messages, and that plenty of people want to take part in them—without the bullshit. And without their sensibilities bleeding into how we treat public officials.
G/O Media may get a commission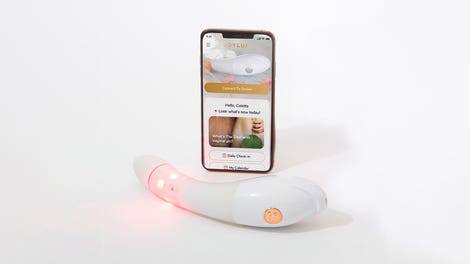 $50 Off
Joylux vFit Gold Device
Update: If you're in the New York area, you can see this film on February 12 at the Athena Film Festival. More info here.
Sundance Report: Miss Representation Explores Treatment Of Sarah Palin, Hillary Clinton [Fox News]
92Y Video: Women, Power, Politics [92Y]