Kate Upton is on the cover of GQ, shot — obviously — by Terry Richardson. She explains to the magazine that the Dougie that captured the attention of a nation, which she performed with fellow model Damaris Lewis at a Clippers game, was her first Dougie. Knowing her audience, Upton shares this anecdote with the readers of GQ:
"For the GQ photo shoot, we were on that ride where the seat spins while the actual ride is spinning, and I'm wearing a one-piece. And all of a sudden the whole entire top falls off! I'm holding myself, laughing, turning bright red, but a lot of people are watching, so they kicked us out of the Santa Monica Pier — it was so embarrassing."
Of modeling, Upton says, "It's like any job. You find your strengths and play them up...I understand why my male followers like me." [GQ]
---
Vogue's ill-advised profile of Asma Al-Assad has had one additional casualty: journalist Joan Juliet Buck. Buck, the former editor of Vogue Paris and a contributor to various Condé Nast publications since 1968, is as of this February no longer listed on the Vogue masthead. Apparently, calling the wife of the Syrian dictator a "thin, long-limbed beauty" in the month that Bashar al-Assad just happened to start publicly killing hundreds and then thousands of his own people was enough not to get her contract renewed. Question: has acclaimed photojournalist and war photographer James Nachtwey, who snapped those Norman Rockwell-ian Assad family portraits for Vogue, seen any career repercussions? Women's Wear Daily's Erik Maza takes an unusually gleeful tone in bringing news of Buck's departure, dismissing her as "a reliable source of friendly, if forgettable copy on tasteful ladies." (Buck has written for the New Yorker and the New York Times Magazine, and remains the only American to have ever edited a French magazine. Moreover, WWD is hardly a stranger to the celebrity puff piece: c.f. the tedious 2000 words the august trade published just today on Jennifer Hudson and her QVC line.) Journalist and editor Prosper Keating added this rejoinder to WWD's piece in the comments:
Maza is entitled to his opinions and to express them in the trade paper to which he descended from the Baltimore Sun but I think I am fairly well-qualified to tell him that he has probably done himself serious damage in ways of which he is not aware by writing this hatchet job. Joan was doing the job her contract required of her. Anyone who has worked for Condé Nast knows that it's not all endless Vanity Fair-style exposés of the machinations of Disney executives, murders in New England and so on. Celebrity blow jobs are the cement that fills the spaces between the pictures, as he ought to know, given that CN own WWD, or perhaps he wasn't aware of this. One can't please all of the people all of the time: when I was features editor of Vogue Hommes International, I was tarred as a Nazi apologist by Claude Lanzmann and his cronies over an interview-based profile of Leni Riefenstahl. And then I was doorstepped by some French spooks over a piece on Toni Negri, the so-called philosopher of the Red Brigades. And when we did the puff pieces, up popped people like Maza, accusing us of harebrained superficiality, although most of them used words with fewer syllables. So Joan was paying the rent or the mortgage by writing about the editors and publishers wanted in the magazine. Money for old rope. Maza should be aiming his vitriol at the Editor-in-Chief but, of course, he probably hasn't the balls for that.
G/O Media may get a commission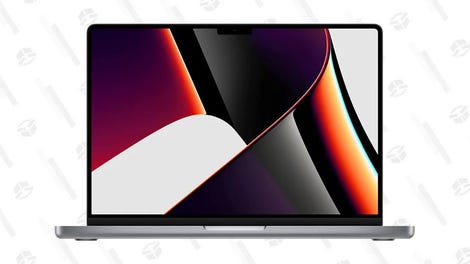 Save $300
2021 14" 1TB MacBook Pro
Hate the game, not the player. [WWD]
---
Rosie Huntington-Whiteley's younger sister Florence is trying her hand at modeling. [Telegraph]
---
Justin Bieber already has a second perfume. This one's called Girlfriend. His first, Someday, sold a bajillion trillion gajillion bottles in its first 0.07 seconds on shelves. [WWD]
---
Jil Sander is about to show her first collection now that she's back in charge of the fashion house that bears her name. It's men's wear, but she says she's already designed most of the women's wear collection she'll show this fall. "I'm working less on decoration, more on form," she says. "Pattern-making and materials, with a lot of dresses in the collection — in a good modern way." Suzy Menkes writes that Sander's return to the company she founded is overshadowed to a certain extent by Raf Simons, the well-respected designer who was fired so that Sander could return. (Simons was later hired at Christian Dior.) Menkes also points out that Phoebe Philo, at Céline, has sort of supplanted Sander's original position as the provider of serenely minimalist designs to wealthy, working women. [IHT]

Haider Ackermann is the subject of an interesting profile in the Independent. Apparently, when Vogue called in one of his looks for last year's Lady Gaga cover, the magazine's stylists didn't know how to put the dress together:

There is little straightforward about Ackermann's designs. In fact, they are often so complex that when, for example, in March 2011, Lady Gaga appeared on the front cover of American Vogue wearing Haider Ackermann, the hapless fashion editor responsible for styling her look called the designer to ask for his personal help dressing her. No "how many fashion editors does it take..." jokes called for, please.

Colombian-born Ackermann, who had a peripatetic childhood as the adopted son of a French cartographer, says that his interest in layers and folds — in fabric as form and volume, rather than cut — was sparked by seeing "mysterious women hidden behind metres of fabric, slippering through the medina of Oran" as a child in Algeria. [Independent]

Jennifer Hudson is launching a collection with QVC. [WWD]

Male model David Gandy has a habit of exploring his body issues publicly, in magazine interviews:

"I have a fortunate placing of bones and muscles that enables me to do what I do. It's the reason I work; it's not a reason I'm better than anyone else. To be honest, I don't think I'm that great looking. I've grown into my looks but at school I wasn't the guy who got the girls or who was thought to be hot. I didn't have a girlfriend till I was 21, which is pretty late. I was a loner."

Gandy also says he doesn't get along with Gisele Bündchen, with whom he has shot three campaigns. "I don't get on with Gisele. We don't see eye to eye, we argue and we don't enjoy working with each other. Like I say, we are very privileged but what we do isn't saving lives, it isn't brain surgery. And I'm not going to get on with anyone who takes it for granted or thinks they're someone special." [Daily Mail]

Amber Valletta washes her face with goat's milk and neem oil. [The Cut]

Alexa Chung will be in the latest ads for the brand Maje. [Grazia]

Rick "Zombie Boy" Genest is on minute 14. The only question is whether he knows it. "Music sounds great, I'd love to cut an album," he says, "but I've got to learn how to do the kind of music I like. I've got to figure it out." [WWD]

This weekend, Tavi Gevinson and Iris Apfel spoke with the New Yorker's Judith Thurman about "good taste" and fashion at the Met. In attendance was Albert Maysles, who is directing a documentary about Apfel. Apfel and Gevinson said that they would like to see a Costume Institute exhibit dedicated to the style of older women. [The Cut]

Apfel to young people: Get off my lawn.

"I think they could be a little bit more well groomed — if you know what well groomed is, you just take a look in the mirror. Their hair doesn't look neat, they look like they are all messed up. I don't think messy is pretty, I think they should study themselves a little more and not wear something that's in fashion because it's in fashion. And you see some enormous young women wearing the skimpiest clothing and it really looks dreadful."

Model Meghan Collison says Chanel's recent show at Versailles was a career highlight — except for the shoes she had to wear: "They destroyed the back of my feet. I was bleeding afterward. Hard plastic with no socks on? Not fun! Especially because we had rehearsal three times. I walked around for the next week with the backs of my moccasins folded down to let them heal! At least the shoes looked amazing." [WWD]