Kate Middleton made her first official public appearance since it became possible to tell, albeit barely, by the shape of her body that she is in fact pregnant. She wore a dress by MaxMara and visited a hospital. (More on her and that Hilary Mantel piece later.) [Telegraph]
---
After the first issue of T, the New York Times' fashion magazine, edited by incoming editor Deborah Needleman was published, many readers noticed something curious: that it contained no images of people of color in any of its editorial photography or articles. All of the models were white, and all of the subjects were white. Prompted by the newspaper's public editor, Needleman said that the all-white issue was an oversight:
It was something I noticed and regretted as we were putting the issue together. We are a global magazine and so would like the content , subjects and geography of stories to reflect that. In coming issues, we cover the people and places of Seoul, São Paulo, Kenya, Bollywood actors, Nigeria, etc. A majority of fashion models are still unfortunately mostly white, but it is our aim to celebrate quality and beauty in all its diverse forms. We can and will aim to do better, but our goal is first and foremost to deliver the best stories we find, and it is my belief that quality and good journalism appeal to all of us regardless of our specific ethnic origins.
G/O Media may get a commission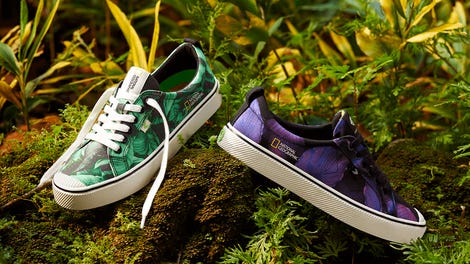 New New New
Cariuma + National Geographic
One reason we track racial diversity on the runway is that the models who get the most exposure in a runway season often become the models magazine editors and luxury brands look to when casting their editorials and campaigns. When the runways are mostly white, so are the magazines and the ads. It's a shame that this is still a problem we're wrestling with in 2013. [NYTimes]
---
Rooney Mara is on the cover of Interview, and you should totally go read the interview between her and Steven Soderbergh, because they are two very funny people.
SODERBERGH: Talk about what scares you. Be specific.

MARA: Diseases, like the one in Contagion [2011]. Black mambas. Heights. The ocean. Outer space. Humans.

SODERBERGH: Anyone specifically besides me?

MARA: Stop projecting. You don't scare me.
---
André Leon Talley and Marc Jacobs discuss louche behavior and pajamas in this video. [YouTube]
---
This is pregnant Kim Kardashian wearing towels and a flower crown for DuJour magazine. The photographer was Bruce Weber. [Fashionista]
---
Here are Jourdan Dunn, Cara Delevingne, and Rosie Tapner doing the Harlem Shake at New York fashion week. [YouTube]
---
Dree Hemingway, Ernest Hemingway's great-granddaughter, still isn't much of a fan of his writing.

"I read The Great Gatsby every summer. Once in an interview with V magazine I said that I preferred Fitzgerald to Hemingway. I think that Hemingway is an amazing writer, but by being related to him, I had it in my head that I had to like him. I'm quite a stubborn person, so I just rejected it. But his writing is very masculine, and I'm very feminine in the way I think, so I'm not going to back down on that statement."

Macy's lawsuit against Martha Stewart for allegedly breaking her contract with the retailer in order to instead sell her line of branded homewares at competitor JC Penney heads to court today. [Bloomberg]

Prada saw a 29% leap in annual revenues from 2011 to 2012, to $4.24 billion. [WWD]

And now, a moment with Robin Givhan, the first fashion critic to win a Pulitzer (and a casualty of Newsweek's December round of layoffs). Robin, what was on your mind as you went to New York fashion week this season?

No other industry creates — through its products, marketing, and business dealings - such a misleading and malignant sense of intimacy as fashion. Clothes, after all, speak not just to who we are, but who we would like to be. When fashion designers are truly on their game, they can anticipate a shopper's unspoken desires, vulnerabilities, and secret aspirations. Fashion engages the public in such a deep relationship that observers take it personally when the models are too thin, the clothes too expensive, or the silhouettes too unforgiving. How dare fashion not reflect me, be focused on me, celebrate me!

Fashion doesn't shape identity, but it most certainly broadcasts it to the world. Ultimately, fashion is our personal spokesperson, but often what it has to say — through jeggings, harem pants, Ugg boots, Kanye West, and Kim Kardashian — is not in our best interest.

[The Cut]