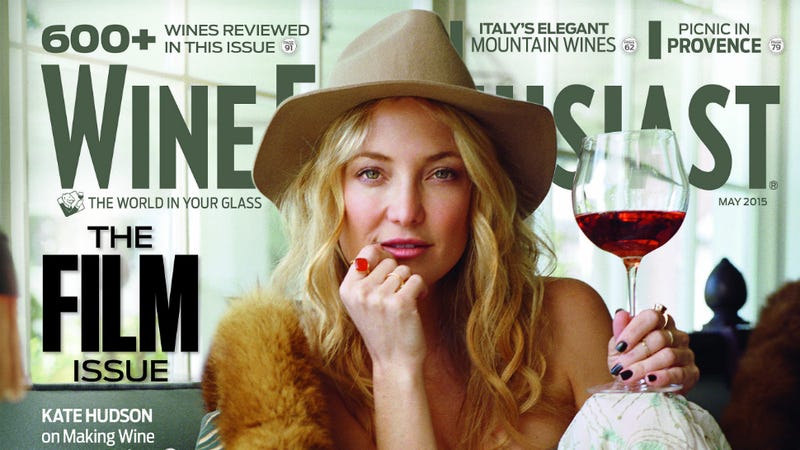 Whether feeling a friend's baby bump, selling her new line of activewear, or laughing while playing badminton, Kate Hudson always seems to be having so much fun. And what do successful women who love having fun do when they want to keep having fun? They makes wine, of course! The Oscar-nominated actress recently told Wine Enthusiast how she got started with her most recent hobby. Like most good ones, it started with Kurt Russell.
Kurt Russell, my stepdad, started making wine a few years back up in the Santa Rita Hills, and he kept telling me and Matt [Bellamy, co-owner of Hudson Bellamy Wines] that we had to get up and blend with them and do a harvest. We ended slogging up there, and that was it. It was too much fun.
Kate also revealed her favorite wine from Hudson Bellamy's cellars.
...We started with rosés, and that's still my favorite.
She and rosé, however, aren't exclusive.
I love Sauvignon Blanc, and everyone told me not to attempt a California-style Sauvignon Blanc. I said, "Why not?"
But wait.
I also love Cab. That's my jam!
Though her romantic relationship with Matt Bellamy (co-founder of Hudson Bellamy Wines and father of their son Bingham) has ended, she won't let that stop her having one of the most fun-loving attitudes in Hollywood.
We're family for the rest of our lives, we have a beautiful baby and we love making wine. We'll continue doing it.
Photo via Wine Enthusiast.
---
Contact the author at bobby@jezebel.com.