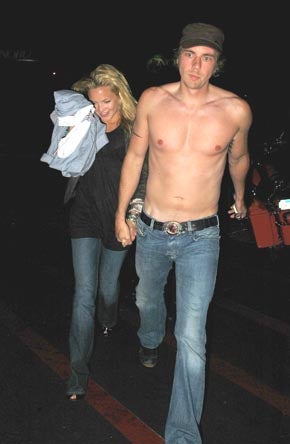 Kate Hudson lands the cover of Harper's Bazaar with this profundity, as spotted by that paragon of carnivorous virility Perez Hilton:
"As primal beings, men are not supposed to be monogamous. When people ask, 'Do you believe in monogamy?' Well, of course that's what you want. But part of what I love about men is that it's hard for them to be monogamous. Women, I think, need to spend more time understanding men than changing men. And vice versa.
Uhhhhhh, you mean it's hard for you to be monogamous, Katie-pie? Anyway, we were confused, so we brought the dilemma to masculinity expert and former Jane magazine editor Jeff Johnson.
I think she is saying that's a crucial element of Kurt Russell's deal with her mom, is that he could blame all the places his penis took him on man's primal need to pork women. It's a Gene Simmons thing. But in the case of Kate Hudson, and HER ex hubby, let's do the math. The guy looks like something that came out of Jerry Garcia's ass. Sooooooo I dunno why he'd cheat on her. All his free time went to grooming his beard, etc. Clearly she was talking about Owen Wilson, who gets laid everytime he truns around. But if she GETS it, why the fuck is she now dating DAX from 'Punk'd'? That's a pretty shitty punishment for being enlightened.
Right, and does she have to share the punishment with all of us? Kate, some words of wisdom from your contemporary Cisco Adler: Just because your dad (or stepdad) is a pimp, doesn't mean monogamy isn't possible. You're almost as hot as Mischa, you know...
Kate Hudson: Men Are From Planet Screw [PerezHilton]