The ladies of Potomac have reached that point of nirvana every Real Housewives franchise experiences in which, after a couple OK seasons, the cast members' marital issues rise all the way to the top and their facades crack like bad foundation, exacerbated by the fact that they have cameras in their faces all the time and can't hide anything.

Potomac managed to get a touch more compelling in its second season, thanks to Karen's tragic financial woes—which she refused to address—and the growing rift between Ashley and her olden Australian husband. Karen insists on keeping up the farce of wealth in Season 3, and she may or may not be hanging out with a "blue-eyed gentleman" while in an open relationship with her husband. (!!) She's also absolutely without a doubt "debt-free and loaded," despite having to previously sell her mansion and move to another town.
If no one else will, Gizelle will just come right out and say it: "We know you're hiding ev-e-ry-thing, Karen!"
"I thought you were a friend, but you a back-stabbing betch," Karen says.
Ashley is meanwhile torn between Michael and her mom. Gizelle has found economically sound love with a new rich man. Robyn and Juan, too tired to date other people, are still trying their hand at reconciliation, but for real this time, really. And there's a new cast member with an extra "i" in her name, Candiace, a former Miss United States (move over, Kenya).
G/O Media may get a commission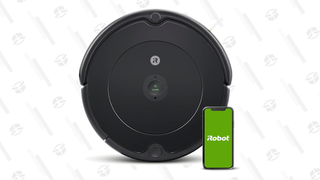 35% Off Black Friday Deal
iRobot Roomba 694 Robot Vacuum
The Season 3 trailer (Potomac premieres April 1) ends with a threat from Monique: "Back up and get out of my face before I choke you out with this umbrella."