MAGA fan number one Kanye West designed shirts and hats meant to encourage black people to leave the Democratic Party: "Blexit." Fortunately, the day-glow monstrosities are likely too ugly for both the average black conservative or Kanye stan to wear in public. Unfortunately, it's another sign that whoever is still holding out hope for the "old Kanye" is playing themselves.
The "Blexit" campaign is brainchild of the ultra conservative Candace Owens, Turning Point USA's communications director.
"Blexit is a renaissance," Owens told Page Six. "And I am blessed to say that this logo, these colors, were created by my dear friend and fellow superhero Kanye West."
The official Blexit slogan is "We Free," a cloying attempt at capturing some semblance of black American colloquialism. It's splayed on the front of two different shirts currently available for purchase.

G/O Media may get a commission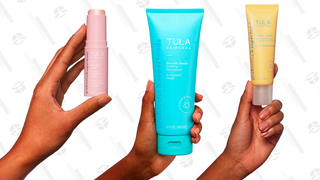 West did not attend the debut of his clothing line at Turning Point USA's Young Black Leadership Summit in Washington this past weekend, but Owens insisted to Page Six he was there in spirit.
The hideous apparel and politics will accompany a series of rallies Owens says will be set in "every major city in America that the Democrats have destroyed." That's right-wing speak for any city with a Democratic mayor and more than two black people living in it.
This is a continuation of West's slapdash and confused politics, in which he hangs out with Trump and waxes poetic about wearing a MAGA hat one day, donates over $73,000 to Chicago mayoral candidate and progressive Democrat Amara Enyia the next, and after that has a hand in encouraging black people to leave the Democratic party. West appears less interested in the actual politics of the right wingers and conservatives he's shallowly aligned himself with, and more interested in the optics they present: A type of pseudo-intellectual contrarianism that may originate from well intended criticism of the Democratic party's benign neglect of its black base, but devolves into an odious politic that sees a move to the right as the only solution, when a move to the left is a valid and more beneficial option.

Conservatives see West as a novelty cheerleader for promoting their cause in a cool, attention-grabbing package. But it's clear that West's politics are too erratic for any one political ideology to claim. Unless, of course, headassery is an ideology now.