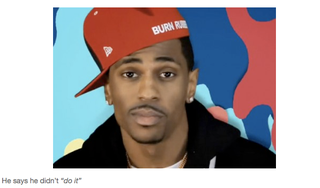 The lawyers defending Kanye West protege Big Sean have released a statement on behalf of their client, who was recently accused of sexually assaulting a woman during a concert:
Last night, recording artists, Sean "Big Sean" Anderson and Willie "Sayitainttone" Hansbro were arrested and then immediately released by the NY State Police in connection with an allegation made by a female who was at their concert in Lewiston, New York.

Both men were charged with misdemeanors and they both vehemently deny the allegations.
I am confident, that after further investigation, both men will be vindicated.
To make matters worse, this Bossip article in particular adds insult to injury by choosing —for some reason— to close their coverage of the story with this:
Being that Sean is just beginning his career and is such a young artist we hope that this isn't true. Although he does talk about…oral copulation a lot in his rhymes, we know that these hoes be lyin' too.