If you've been wondering what was going through Kanye West's mind when he rushed the stage after Beck won Album of the Year over Beyoncé at the Grammys last night, prepare to be sated because 'Ye's going to tell us all about it.
"I just know that the Grammys, if they want real artists, to keep coming back, they need to stop playing with us. We ain't gonna play with them no more," West told E! after the show. "And Beck needs to respect artistry and he should've given his award to Beyonce."
He continued:
"Because when you keep on diminishing art and not respecting the craft and smacking people in their face after they deliver monumental feats of music, you're disrespectful to inspiration and we as musicians have to inspire people who go to work every day, and they listen to that Beyonce album and they feel like it takes them to another place."
As to why he didn't do a full repeat of the infamous 2009 Taylor Swift interruption (the one that launched thousands of "Imma let you finish" memes), West says he kept it in check for his kid...and fashion:
"I got my wife, I got my daughter, and I got my clothing line, so I'm not going to do nothing to put my daughter at risk — but I am here to fight for creativity. That's the reason why I didn't say anything tonight. But you all know when it meant when 'Ye walked on that stage."
G/O Media may get a commission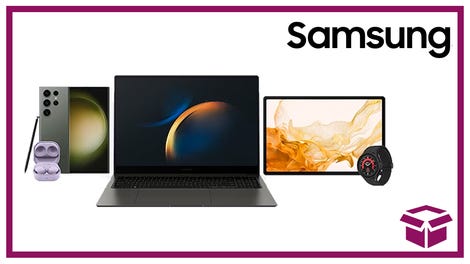 24 hour deals
Discover Samsung - Daily Deal
On a scale of Jay Z's face to Beyoncé's face, how do Kanye's words make you feel?
---
Bruce Jenner has issued a statement to the friends and family of the woman who was killed when Jenner, driving SUV, accidentally caused a pile up that pushed her Prius into oncoming traffic.
"My heartfelt and deepest sympathies go out to the family and loved ones, and to all of those who were involved or injured in this terrible accident," Jenner told E! "It is a devastating tragedy and I cannot pretend to imagine what this family is going through at this time. I am praying for them. I will continue to cooperate in every way possible." [ E! Online]
---
A judge has ordered non-famous person Jordan Dillard to stay 100 ft. away from Ellen Page's property after Dillard, while Page was away, moved into her car port and set up camp.
According to TMZ, Page " claims she wasn't aware he was living large by her car until Tuesday...when Dillard repeatedly knocked on her windows and tried to bust in through her front door. Page says Dillard told police...she's a 'nice' person who wouldn't mind him squatting on her property." [TMZ]
---
Taylor Swift is Monday and we are all Pharrell:
Photos via screengrab, AP.