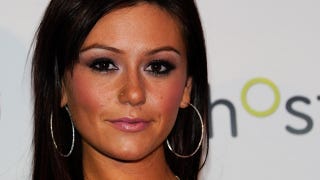 Jenni Farley — who appears in today's New York Post wearing a ballgown and tiara — admits that she wasn't exactly girly, growing up:
I'm an only child. Mostly raised by my father outside of Saratoga, doing martial arts and snowmobiling. I wore sweaters, jeans and sneakers. I was more interested in four-wheeling in the Catskills than doing my hair and makeup at 7 a.m. before school.
The author (yes, she has a book coming out!) also says she admires Angelina Jolie, and plans to be a philanthropist:
Whatever charities I pick, I'll be fully hands-on with and not just write a check. Definitely an animal charity and a cancer one as well, but I don't want to jump into it now because I can't be as dedicated as I want to be.


Click to view


JWoww: 'I want to be Angelina!' [NY Post]