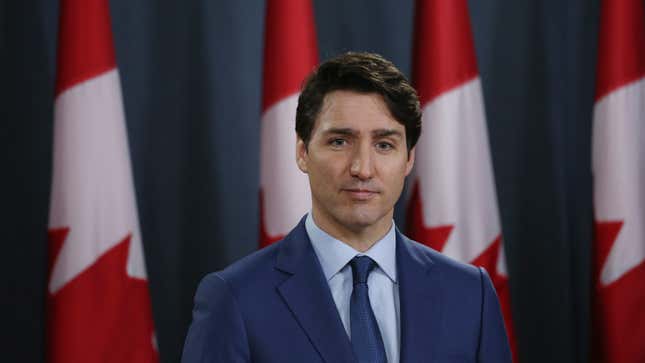 Canadian Prime Minister Justin Trudeau's re-election campaign was already off to a rough start, thanks to a corruption scandal and groping allegations. Things just got a lot worse for him.
On Wednesday evening, Time published a photo from 2001 showing Trudeau in brownface makeup. A spokesperson from the Liberal Party of Canada, i.e. Trudeau's party, confirmed it was the Prime Minister, noting that the photo was taken at "Arabian Nights"-themed party held by a school he was teaching at at the time.
"It was a photo taken while he was teaching in Vancouver, at the school's annual dinner which had a costume theme of 'Arabian Nights.' He attended with friends and colleagues dressed as a character from Aladdin," Zita Astravas, the party's media relations lead, said.
The photo, which was initially published in the school's yearbook, is pretty damning:
Jagmeet Singh, the leader of the New Democratic Party who is also a Sikh, called the photo "insulting," and said Trudeau "needs to answer for it."
Trudeau did address the photo on Wednesday evening. "I take responsibility for my decision to do that. I shouldn't have done that. I should have known better," he told reporters, according to CBC. "It was something that I didn't think was racist at the time, but now I recognize it was something racist to do. And I am completely sorry."
Still, this is not the first time Trudeau has been called out for cultural insensitivity (and, in this case, downright racism). In February 2018, Trudeau and his family went on a state visit to India where, among other disasters, they dressed up in extravagant traditional Indian outfits that bordered on costumery.
"It's a little over the top," Vivek Dehejia, economics professor at Carleton University, told Global News Canada at the time. "I understand on day one having to wear the traditional clothes, but now it's getting too much. It's very choreographed, … these Bollywood-style outfits every public event he does. What does it say about the real purpose of the visit?"
Trudeau had a wild response to that incident, too:
Meanwhile, the groping allegation—that, as a 28-year-old teacher, Trudeau inappropriately touched a woman reporter—made its way back into the news along with the circulating photo. Singh revisited the allegation while discussing Trudeau's brownface with reporters, noting both incidents suggest Trudeau's not quite the woke liberal ally he presents himself to be.
"Who is the real Mr. Trudeau? Is it the one behind closed doors, the one when the cameras are turned off that no one sees?" Singh told reporters, according to the New York Times. "Is that the real Mr. Trudeau? Because more and more, it seems like it is."