New rumors have surfaced from law enforcement officers who raided Justin Bieber's house. The mansion was reportedly "strewn" with drug paraphernalia, including bongs, hookahs, empty codeine bottles, and custom hand-decorated Sizzurp cups. Cops didn't seize any of the items because it would have "exceeded the scope of the search warrant."
Sources familiar with the situation tell TMZ ... when L.A. County Sheriff's deputies searched the house ... there were 2 large cookie jars filled with weed in plain view. There were also 4 - 5 empty codeine bottles in the mansion.

There were also 3 bongs — 1 in the TV room and 2 in the kitchen.

There were styrofoam cups scattered throughout the house that had elaborate drawings on them ... including the names of the people who used them. The cups, we're told, were used for Sizzurp (also called lean) — which is Justin's drug of choice. We're told he likes to draw on the cups with markers after using them.

And speaking of Sizzurp ... Sprite is usually part of the mix, but we're told Justin preferred pineapple Fanta instead. There were empty Fanta bottles that were discolored ... we're told from the codeine.

There were lots of "swisher sweets" cigars laying around the house — Bieber's preferred way to smoke marijuana.
Within the scope of the search warrant, apparently: finding a black guy and arresting him for cocaine possession while ignoring everything else. [TMZ]
---
Hey, let's intrusively analyze Bruce Jenner's fingernails!
First, there was the ponytail. Then, the announcement Bruce Jenner wanted to have his Adam's Apple shaved down — a common surgery for men transitioning to women. Now, he is flaunting a set of long, manicured nails that seem a strange choice for an active, athletic man. Is it the latest sign of his obvious transformation sinceannouncing his split from Kris Jenner?

Bruce showed off his unusual nails in Los Angeles on Saturday. But he's actually been rocking a similar look for months!
G/O Media may get a commission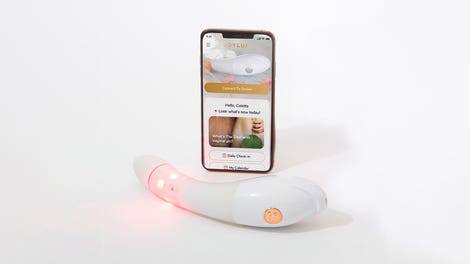 $50 Off
Joylux vFit Gold Device
If you were to draw conclusions about me based on my fingernails right now, you'd assume that I aspire to be a monster. [Radar]
---
Jason Momoa! Doin' stuff! [JustJared]
Krysten Ritter! Doin' stuff! [JustJared]
Rihanna! Doin' stuff! [E!]
Kelly Clarkson is having a girl-baby. [E!]
Reese Witherspoon went jogging. [JustJared]
Britney Spears's ex is "fat" now. [TMZ]
William and Kate's adorable wedding photo was the product of "spontaneous emotion"—they just "suddenly hugged in front of a radiator." [People]
Khloe Kardashian wore an outfit sort of like an outfit that Kim Kardashian wore. Ready, set, care. [Us]
Here is Jerry Ferrara without a shirt on. [JustJared]
Victoria Beckham says she will NEVER do a Spice Girls reunion again. [Us]
LOOK AT THE SHREDDAGE.

Images via Getty.