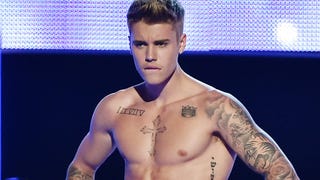 Continuing with the Justin Bieber image rehabilitation tour, Bieber showed up at an Ariana Grande concert last night. He joined baby/human/cat, Grande on stage and attempted to sing three songs with her: As Long As You Love Me, All That Matters, and Love Me Harder. Bieber didn't actually know any of the lyrics to Grande's songs (perfectly legit), but soldiered on anyway.
Since he's a nice guy now, he apologized for it on Instagram. He captioned the photo, "Had fun with u Ariana, even tho I forgot all the words haha." No mention of Ariana's amazing sparkly, pink platform shoes.
Then he threatened to come back to Miami (where Grande was performing). At least this time he didn't get arrested.
Here's some fuzzy video for your viewing enjoyment:
Image via Getty.