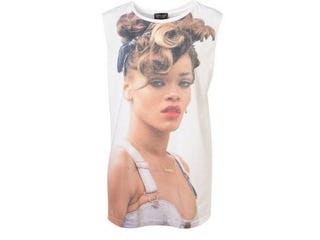 Judges have ruled in favor of Rihanna, declaring that Topshop is not legally allowed to sell a tank top with RiRi's face on it without her approval. This legal battle dates back to 2013.
Topshop had the nerve to file an appeal last year after a court ordered them to cease and desist with the RiRi tees. Their appeal was overturned today, according to Business Insider:
Three judges at the Court of Appeal today agreed with an earlier High Court ruling that selling the tank top could deceive some shoppers and Rihanna's fans into thinking she endorsed the item of clothing.
Image via Business Insider