In Jon Gosselin's $5 million countersuit against TLC, his lawyers argue that the network violated child labor laws, cast Jon as "David" fighting TLC's "Goliath," and recommend TLC's "infected hands be amputated." It gets even crazier:
Radar Online has obtained the legal documents from Jon Gosselin's response to TLC's breach of contract lawsuit. The two documents were filed by lawyers Mark Heller and the unfortunately-named Christopher A. Hostage in Maryland, where Heller is not licensed to practice law.
The first document reveals that when the Gosselins renegotiated their salary in April 2008, the network agreed to pay them $22,500 per half-hour episode of Jon and Kate Plus 8 and $45,000 per one hour episode. Jon claims that TLC still owes him $175,000.
In Jon's answer to TLC's request for a preliminary injunction against him, his lawyers argue the original contract the Gosselins signed in 2005, is "unconscionable and therefore unenforceable" because the entire family was only paid $2,000 per episode and at the time "Mr. & Mrs. Gosselin... were unrepresented and unsophisticated."
Jon accuses TLC of failing to obtain location permits to film in the Gosselin home, not filing permits required under Pennsylvania's child labor laws, and a series of other violations that paint the network's actions as heartless, if not criminal. The document claims that TLC's contract was written so that it:
... Might preclude the children from pursuing academic, athletic, or religious pursuits that may be scheduled in conflict with [TLC]'s filming schedule.
G/O Media may get a commission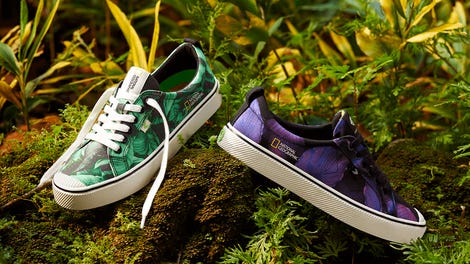 New New New
Cariuma + National Geographic
And that because the Gosselin home was used as a location, the network:
Would not allow Mr. Gosselin or his family to take pictures at their home... thereby, Mr. Gosselin could not photograph or record his own family moments and hallmark events in his family's life.
The document says TLC paid "the family," rather than the children specifically, in an effort to dodge child labor laws. It's pointed out that Pennsylvania is currently investigating whether the show broke these laws after receiving an anonymous tip,
Which may have resulted from a raw clip of video footage from [Jon and Kate Plus 8] that appeared on the internet, which may be viewed at the following internet website
, which video footage depicts one of the children being denied water while pleading for same, during the staging and filming of [TLC]'s show.
That refers to this clip:



It's not like TLC sipped water in front of a pack of thirsty children. On the other hand, the kids wouldn't have been thirsty in the first place if no one wanted to interview them about Jon and Kate Plus 8. Now, after four and a half years of this shoddy treatment [and being fired from the show], Jon won't take it anymore:
[TLC is a] huge, multinational corporate conglomerate... while Mr. Gosselin... is an unsophisticated father of eight children, who is also known as "David" in this instant lawsuit between "David and Goliath."
Well, "unsophisticated" seems about right.
The contract is quoted as saying the Gosselins can appear on news and talk shows on other networks as long as they coordinate their appearances with TLC's press department and are identified as being from Jon and Kate Plus 8. The document claims Mark Heller faxed information about Jon's appearances to TLC and its "press department's failure to do any 'coordinating' is not a breach by Mr. Gosselin."
It goes on to say that if TLC is allowed to prevent Jon from making other TV appearances it will cause him "severe and unbalanced harm" because:
Mr. Gosselin will be unable to earn a living as a television personality, and therefore be precluded from supporting his eight children, whereas [TLC] currently has its show on "indefinite hiatus."
There's no mention of the "severe and unbalanced harm" Jon is causing the public by earning his living as a television personality. The document concludes with this impassioned plea:
Righteous, law-abiding, good citizens journey to seek the most coveted privileges of an American — which are equity, fairness, and justice, on the precondition that they reach out with clean hands to Honorable Justices and therefore, are worthy of the Court's consideration. However, here, [TLC]'s hands are so sullied, polluted and infected with wrong doing, deception, heavy handedness, unconscionability, and disregard for the Public's Interest, that the only resolve that justice should mandate is that [TLC]'s infected hands be amputated.
As far as we know, judges can't sentence people to "hand amputation" in this country, but Jon's point stands: it's the unalienable right of every American to agree to put their family on a reality show, violate their contract, overrun the media with reports of their ridiculous behavior, and drag their problems through the American legal system.
EXCLUSIVE DOCUMENTS: Read Jon Gosselin's $5 Million Lawsuit Against TLC! [Radar Online]
EXCLUSIVE DOCUMENTS: TLC Broke The Law Jon Gosselin Charges In New Court Papers [Radar Online]