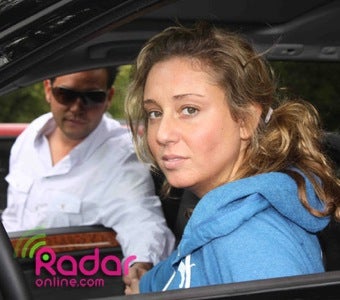 Hailey Glassman's name has apparently found its way onto the official Gosselin Family website, which isn't terribly surprising, as Jon Gosselin clearly wants the world to know that he's moved on from Kate and isn't one for subtleties.
Glassman's name only appears once on the Gosselin site, for what its worth, in a small banner that echoes a Twitter post Jon Gosselin put up the other day which notes that Glassman has no Facebook account before listing the official Twitter pages of both Glassman and Gosselin. It's Gosselin's way, I assume, of steering people away from faux Haileys and the rumors they might spread, but it's also his dumb way of making sure everyone knows that his relationship with Hailey is as legit as his official Twitter feed. It's the only sign, on the entire site, that Jon and Kate are over; the rest of the page hasn't been updated in quite some time, and still features smiley family photos and a mushy story of how Jon and Kate found each other and fell in love. Oh, dear.
But herein lies the real reason why the public hates Jon Gosselin so much: he's a terrible ex. The worst! He pulls the same idiotic moves a 15 year old boy pulls when his heart is broken for the first time; the makeout photo ops with his new girlfriend, the sessions where he publicly trashes his ex and invites his new girlfriend to join in, and the douchebag upgrades he's given his life; fast cars, bejeweled tiger shirts, and pool parties in Vegas, all designed to stick it to Kate for "holding him back" for so long.
He is the kind of ex who feels it necessary to prove he is happier without you, and will do whatever it takes to shove your face in it at all times. It's a sad and tired method that most people outgrow (or find a more subtle means of pulling off) by the time they're 30 years old, but Gosselin, 32, is running with it and shows no signs of slowing down.
He's the ex that won't leave, hitting every single stereotype possible in his quest to prove that he's finally moved on. But people who have really moved on don't make a point to continually trash the relationship they've left behind, and one hopes that Gosselin will finally grow the fuck up and grasp this, if nothing else, for the sake of his kids, who really don't deserve to have their parents' dirty laundry aired in public.
In the end, it doesn't make a difference if Glassman's name is on the Gosselin Family website or not; the story that lingers there is one from a long time ago, and the family that exists in those pictures has changed so much that it's almost as if the world created there doesn't belong to them anymore, anyway. I'd say the site needs to be pulled for a redesign, but I don't think the public ever really visits it these days, as Jon is making sure that his picture is found in other places for all the world to see, whether they like it or not.
He's the villain of the moment, the guy you love to hate, mostly because he's the guy you've hated before, in some capacity. But like most terrible exes, Jon Gosselin will eventually disappear. He's already a joke, an eyeroll, a synonym for "douche." We have to put up with his dumb act now, but eventually he'll fade from our daily lives, and we'll all be better off.
Exclusive: Hailey Glassman Joins Gosselin Family Website [RadarOnline]
[Six Gosselins]
[Image via RadarOnline.]