It's back to the future indeterminate past this season at Vogue. The page-count is vintage 1991, the styling is vintage 40s, but the direct inspiration for most of the fashion spreads is...somewhat more recent. Let's trace the anxiety of influence!
The cover hearkens back to 1991, the last September issue of Vogue we could find that had fewer than 600 pages. For comparison's sake: Last year's had 796, 2007's had a record-breaking 840. And 1996's had 700.
Do you think the advertising crunch and the precipitous decline in consumer spending might make Vogue do something a little different, a little out-there, a little untested?



Why, no!
Charlize Theron, this month's cover subject, has graced Vogue a total of four times — in October, 2000, October, 2004, October, 2007, and now again in September, 2009. In the last three instances, the South African actress was photographed by Mario Testino.



G/O Media may get a commission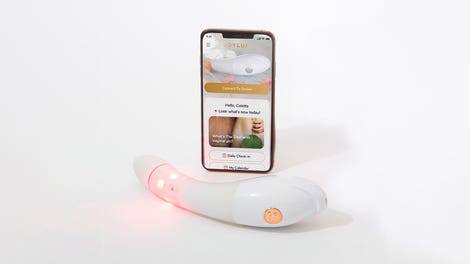 $50 Off
Joylux vFit Gold Device
But that's not the only place in the magazine that had us rubbing our eyes with déjà vu. As other bloggers have pointed out, the Mert Alas and Marcus Piggott-shot editorial with Natalia Vodianova as Little Red Riding Hood from this September's Vogue bears a striking resemblance to...



A Mert Alas and Marcus Piggott-shot editorial with model Doutzen Kroes as Goldilocks, which was published in the August, 2007, issue of W.



The Natalia Vodianova spread for Vogue is called "Into The Woods."



The Doutzen Kroes editorial for W is also called "Into The Woods."



Both the editorials even boast creepy masked soft-toy molesters.



Grace Coddington, the fashion editor for this shoot, can sometimes be a little derivative for my tastes; in recent years, we've seen her turn The Wizard of Oz and Romeo and Juliet into editorial spreads that didn't add much to their source material. "Into The Woods" fits perfectly with that trend.



Natalia's absolutely wretched 'do in those pictures is not a fluke: this issue's full of deeply bizarre hair. You took one for the team here, Liya Kebede.



And in this shot, it's as if you can see Karlie Kloss thinking, "Really, Guido Palau? Really?"



I, for one, am getting just a little bit sick of seeing this particular photo re-made. This, David Sims' version...


...owes as much to an interpretation from last September's Vogue by Patrick Demarchelier, featuring model Catherine McNeil...



...as it does to the Richard Avedon original, with Jean Shrimpton, from the September, 1965, Harper's Bazaar.



Dodai already did an excellent LOLVogue! on the rest of David Sims' editorial. Karlie Kloss has apparently wrested the Vogue showjumping title from Caroline Trentini. The St. Louis teenager has an astonishing three editorial appearances in this issue — four if you count an Annie Leibovitz portrait of her, which runs alongside a short profile of Karlie by Sally Singer.



But what's amazing about that Leibovitz shot is just how much it looks like another portrait the legendary photographer recently took of a young starlet.



I'm referring, of course, to the photograph of Miley Cyrus that Annie Leibovitz took for the June, 2008, issue of Vanity Fair. Karlie and Miley are photographed with the same dampened hair, the same skin that's lit extremely pale, and the same red lips on a nude face. They even share a similar pose and both are shot against the same backdrop. The fact is that even though Cyrus and Kloss were roughly the same age when when they were photographed by Leibovitz — Cyrus was 15, Kloss, who only turned 17 earlier this month, would have been 16 — this photo is certain to draw less ire. That says more about our culture's parallel impossible expectations for the few young women who make it in the entertainment business than anything else: we demand that our pop stars remain forever young, and we expect our models to impersonate adult women from the time they hit 5'9".



Steven Meisel has a 16-page editorial with models Liya Kebede, Karen Elson, Coco Rocha, Sasha Pivovarova, and Viktoriya Sasonkina. It's shot in and around Manhattan's Essex House hotel and styled by Grace Coddington.



Something about the spread, though, suggests this was one of Meisel's autopilot days.



This shot, by Meisel for the February, 2009, issue of Vogue, has a different color palette than the "In The Mood" bicycle picture, but the quirky period styling, the models' poses, and the hats, all nonetheless echo it.



This shot, of Viktoriya Sasonkina, from September's Vogue is lovely.



Until you remember that Meisel shot Sasonkina for last September's Vogue Italia in virtually the same pose, and practically the same dress, in a nearly identically-themed 40s editorial.



Liya Kebede, in the September Vogue spread, looks divine.



And "In The Mood" really hits its stride when it starts playing with the murals in the background. Coco Rocha looks like she could be jumping out of that painting.



And I love those creepy hands.



But again, it's hard not to think of Meisel's old Vogue Italia story, with Sasonkina.



Probably the best editorial of the bunch in this year's slimmed-down September Vogue is Steven Klein's offering, "Take Cover."



Karlie Kloss and Caroline Trentini star as two futuristic gals about town.



They are armed and they are dangerous. And what's more, this editorial mercifully does not appear to be a direct re-shoot of anything else.
Fresh ideas: how novel.


Earlier:Harper's Bazaar: Talking About That "Recession" Thing Is Just "Really Annoying" Now
LOLVogue: I Purmd Mai Hare!