The Huffington Post has launched a new "Global Motherhood" section, sponsored by none other than Johnson & Johnson. But the pharmaceutical giant hasn't exactly been a friend to moms — or people in general — in the past. Let's take a look at some of J&J's less savory activities.
Arianna Huffington announced Global Motherhood yesterday, calling it "a new section within HuffPost Impact dedicated to the health and well being of mothers and babies around the world, and sponsored by Johnson & Johnson." She also plugged the company's text4baby app, "the first free mobile health service in the U.S., providing timely health information via text messages to pregnant women and new moms throughout their baby's first year." Johnson & Johnson has a number of other charitable programs geared toward women's and children's health, including reducing premature births and treating obstetric fistula. But they've also do some not-so-good work. Some examples:
Last year, PhD in Parenting criticized Johnson & Johnson's practice of donating to charitable programs while simultaneously selling dangerous products:
Perhaps the left hand just doesn't talk to the right hand. Maybe these companies hire people with big hearts and smart ideas and put them into their philanthropic or "social responsibility" division and give them a budget to do good things, while at the same time the people working in other areas of the company continue to ignore major concerns that have been expressed about the company's business practices or its products. In my mind, a big part of social responsibility is cleaning up your own house. I don't think that any company that ignores valid concerns from its stakeholders can claim that it is socially responsible.
G/O Media may get a commission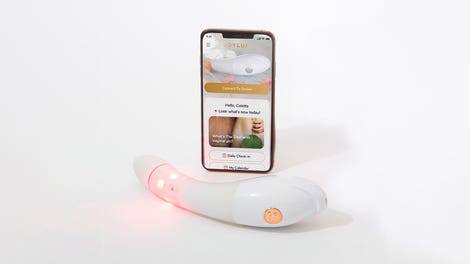 $50 Off
Joylux vFit Gold Device
Johnson & Johnson's new sponsorship deal may well be an effort to burnish its image in the wake of a seemingly endless string of safety concerns. And while it's certainly nice that Johnson & Johnson invests in women's health programs, that doesn't mean much if it's actively contributing to customers' ill health. The Huffington Post isn't necessarily the most respected name in news, but it's still a major media outlet with a big reach, and its new sponsored content will reach a lot of people — the name on the banner ad matters. In addition to issuing an influential endorsement of a company with a pretty dark recent history, HuffPo's also partnering with folks who have been the subject of lots of bad news. If Johnson & Johnson keeps hurting moms, kids, and others here in the US, will the new "Global Motherhood" section report on that?
Calling All Mothers, Calling All Babies: Introducing HuffPost Global Motherhood [Huffington Post]