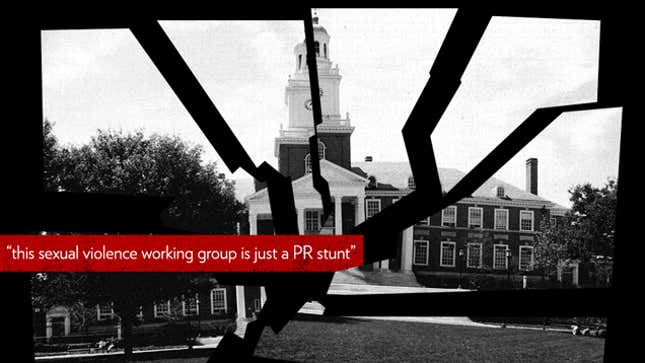 Johns Hopkins University is one the 76 American colleges and universities under federal investigation for mishandling rape allegations. Like so many of the schools that have come under fire in the past year, JHU has publicly paid lip service to fixing its polices — but student activists are skeptical that the changes being made are actually effective.
In the aftermath of a Title IX complaint filed against the school, the Johns Hopkins administration began taking steps to improve their policies. They created a sexual violence website and a Sexual Violence Advisory Committee (SVAC), which will reportedly serve to provide input and advice to the university provost on "matters pertaining to education, training, and other preventive measures; reporting; policies and procedures; and community engagement." All of which would seem like a fine first step, if a feeble one — however, student activists are less than pleased. In a phone interview, an anonymous JHU student told me that two administrators who were highly implicated in the federal complaint for mishandling sexual assault allegations have been appointed to positions in which they'll be advising others on sexual assault policy. One of those administrators was named SVAC co-chair.
In the original complaint, administrators were accused of failing to inform students that a "drug-facilitated gang rape" had occurred at Pi Kappa Alpha (PIKE), a JHU frat, in the spring of 2013. According to emails obtained by Jezebel, a group of concerned female students approached the Student Life Office in the aftermath of the assault and asked whether the administration planned on issuing some sort of warning (which is the school's obligation under the Clery Act, a federal law that requires colleges to provide "timely warnings" to the student body when an on-campus crime has occurred).
In a subsequent email thread among several administrators, Johns Hopkins Title IX Coordinator Allison Boyle expressed her concern: "We are about 90 days out from the report, and I am growing increasingly concerned about our Title IX obligations as they relate to the case," she wrote, going on to suggest that "some kind of warning about the Pike House [be sent] to students."
In a response email, Dennis O'Shea, executive director of communications, said, "My concern is the criticism we will take for not acting (and for not already having acted) if we acknowledge that there are allegations out there." JHU Provost Robert Lieberman responded in a similar vein: "Seems to me we will need an answer to the question of timing: why are we issuing this statement now as opposed to weeks or months ago?" he asked. Um, well, good fucking question. How does one explain to students that they failed to fulfill their federal obligations to adequately respond to an alleged gang rape?
By the end of the day, it seems, the administration decided that the best way to avoid criticism was through inaction — Boyle learned that the Baltimore police department was declining to prosecute "due to insufficient evidence" and responded to the email thread declaring that "a Clery notification is not now required," even though the school had yet to conduct its own investigation. Students were never officially notified about the assault, and no one from PIKE House was disciplined. Then, roughly year later — one day after the details of the Title IX complaint were first published by the Huffington Post — Johns Hopkins announced that it would commission an independent review of the way in which the administration responded to the gang rape allegations.
The complaint further alleges that Dean of Student Life Susan Boswell actively discouraged another student from formally reporting her sexual assault, telling her that "no student has ever been expelled over sexual assault or had any sort of annotation on their transcript." According to the anonymous complainant, Boswell also told her that going through an on-campus hearing process would prevent her from reporting the assault to Baltimore police, which is patently untrue.
Both Boyle and Boswell will work closely with sexual assault under the new policy. Boyle was named co-chair of the Sexual Violence Advisory Committee, which she will chair along with one other faculty member. According to a document obtained by Jezebel, the SVAC's guiding principles include educating other on how to recognize and report sexual violence as well as "regular communication to and engagement with the university community." Boswell was promoted to the position of Vice Provost for Student Affairs, a role in which she will "focus on addressing sexual violence and gender equity on campus."
In a phone interview, one of the complainants against JHU, who wishes to remain anonymous, told me that Boyle was appointed to SVAC after the administration was aware of the details of the complaint. "It's pretty absurd to a lot of us," she said. "Anyone who read the Huffington Post article knew that she was involved [in the complaint]. Also, the Provost who appointed this committee was cc'ed on the email thread [in which she declared it unnecessary to warn students about the alleged gang rape]."
She noted that, in the email in which she declared the Clery notification unnecessary, Boyle wrote that she would "continue to discuss what if anything we want to communicate to the concerned female students" who approached her about sending a notification email to the campus. In a second email — sent on the same date to three administrators, including Boswell — she wrote, "I ask that you not share the details of today's communications with the students we were discussing. While I am committed to working with them, I would like for the four of us to discuss again what we might share with them given the change in circumstances." The JHU student pointed out that this reveals an unwillingness to fully commit to working with students to end sexual violence.
"The fact that they're appointing someone who says that kind of thing means that this sexual violence working group is just a PR stunt," the student said. "Also, it means that maybe [Boyle] is one of the least bad people involved in sexual assault issues at Johns Hopkins."
The only way for colleges to actually improve their abysmal sexual assault records is for them to listen to and collaborate with students and survivors. It's not sufficient to just launch a new website and shuffle around administrators with a history of botching rape allegations; it's not sufficient to institute some desultory prevention programs and hope that things improve; it's not enough to make a task force and hope that temporarily placates the critics.
As the anonymous student told me: "I'm looking for a systemic, cultural change." Systemic, cultural change cannot be affected through quick, cosmetic fixes. College administrations need to start recognizing that.
Image by Jim Cooke