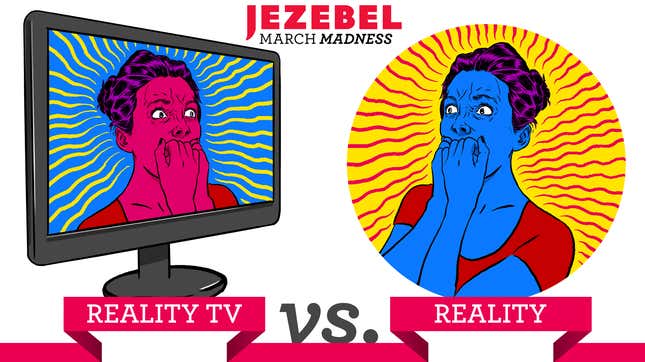 In past years, Jezebel has used the end of March to debate the big issues of our time: whether pie is better than cake, whether sex is better than chocolate, whether drugs are better than alcohol. Those battles, while contentious, were relatively simple. But simple is boring. Real life isn't simple. Real life is complicated. And that's what we'll battle over this year: the intense reality of life, and the intense reality of life as presented on television. Madness epitomized.
This year's bracket might confuse you, but that's okay. Reality television is confusing, as is the world it seeks to represent. You'll see the bracket has been divided into two more subcategories: "business" a.k.a. "Taking care of business" and "casual" a.k.a. "It's casual." When considering one seed versus another, there's no need to consider which is "better" or "worse" but which—in the grand, depressing scheme of "reality"—seems more inevitable, more impactful. You may not like it, but here we are.
Here's your printable bracket.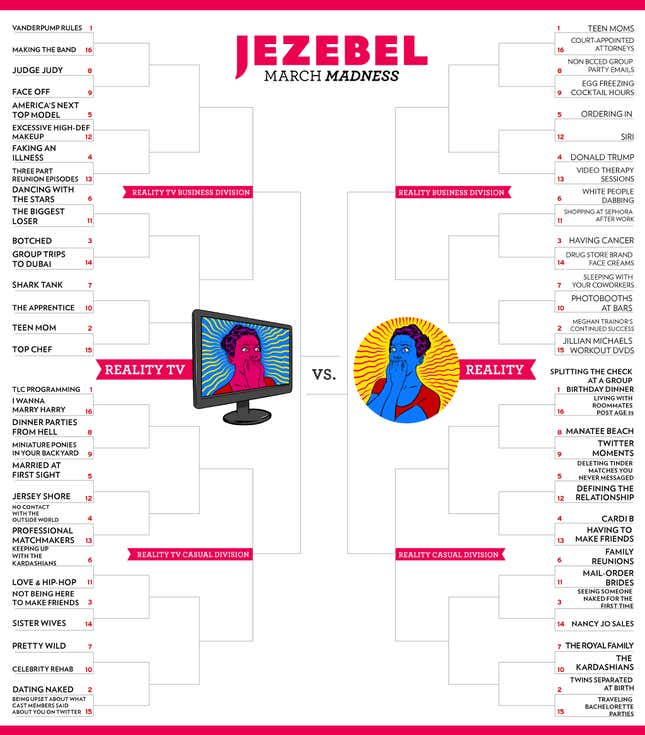 We'll start as we always do, with the top seeds facing off against the bottom seeds.
In the Reality TV Business division, we have Vanderpump Rules (1) facing off against Making the Band (16). The horrors of the team at Sur (particularly the dreaded James) may be just that, but aren't they just being their true selves? And don't they sometimes bring wisdom? And sure, P. Diddy is hardly relevant anymore, but with Making the Band, he delivered us Danity Kane!
In the Reality TV Casual, we have all TLC Programming (1) facing off against the short-lived I Wanna Marry Harry (16). On the one hand, TLC has brought us so much: The Duggars, the Duggars, and remember the Duggars? On the other hand, I Wanna Marry Harry was a show in which a group of women were tricked into thinking they were dating Prince Harry. Insane—or was unavoidable?
In the Reality Business division, see Teen Moms (1) do battle with Court-Appointed Attorneys (16). Being real as we are, there's frankly nothing more American than the number of women who end up pregnant despite not wanting to be simply because of the dearth of effective sex education or contraceptive available in this country. Or is it more true to national form to think about how frustrating our justice system is—where lawyers must work for very little to support men and women who are often victims of an unequal society, the true American way?
And lastly, in the Reality Casual division, we have Splitting the Check at a Group Birthday Dinner (1) going up against Living with Roommates Post Age 35 (16). Is there anything more bleakly predictable than Becky twiddling her thumbs while 20 of her nearest and dearest try to do basic math with their iPhones? Perhaps it's getting to the point where you're considered an adult but still have to live among people you hate!
You have 24 hours; cast your votes now.
---
Illustration by Jim Cooke