Check out Jessica Simpson gracing the cover of the September issue of Elle. She looks great, doesn't she? While there's no doubt that Ms. Simpson is slim yet curvy girl, this particular shape appears to be digitally manufactured. We received a few tips about her waist being whittled, so we decided to take a closer look. An amateur investigation, after the jump.
Let's focus on that plaid shirt. So fascinating how the sleeves are rumpled and soft and look like actual fabric, while the sides that are in the shape of her body are sharp and crisp.
What's up with the pocket not being extended into the zero in 600? Did they downsize her boobs?
G/O Media may get a commission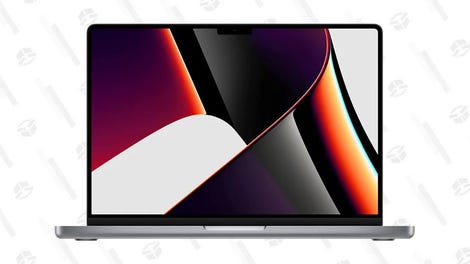 Save $300
2021 14" 1TB MacBook Pro
Again, this pocket does not seem right. Also, the top of her sleeve looks like actual fabric. All along her sides, the lines are too sharp, too defined. Definitely whittled via Photoshop. Inside the magazine, Jessica is photographed in another plaid shirt; maybe this one was touched-up too, but her body just looks more natural.
Isn't the body on the right more believable? Why is it tucked inside? Why does the cover have to be a medical oddity?
Perhaps on the right she took her ribcage out temporarily, then popped it back in for the photo on the left?
The photo on the right is an unaltered photograph of Jessica out and about. There is not a damn thing wrong with the size of her waist or boobs. Thery're just not good enough for the cover of Elle. And guess what? She's been on the cover of Elle wearing a plaid shirt next to the words "Fall Fashion" before. The image on the right is from September 2004.
Anyway, if you're wondering why digitally altering a cover is such a big deal, you should probably read Anna's post about the Faith Hill Redbook cover. It's a terrible and dangerous thing. To quote Anna:

In a world where lying, deception, and the fudging of facts has become endemic in everything, all the way up to the highest levels of government, this is yet another example of a fraud being perpetrated on the public... and the public, for the most part, is not yet in on the joke. Magazine-retouching may not be a lie on par with, you know, "Iraq has weapons of mass destruction," but… when girls as young as eight are going on the South Beach Diet, teenagers are getting breast implants as graduation gifts, professional women are almost required to fetishize handbags, and everyone is spending way too much goddamn time figuring out how to pose in a way that will look as good as that friend with the really popular MySpace profile, it's fucking wrong.
Deja Vu! [Perez Hilton]
Earlier: Faith Hill's 'Redbook' Photoshop Chop: Why We're Pissed