Jessica Biel is apparently shit-flippingly threatened by the continued close relationship between exes Justin Timberlake and Cameron Diaz. She wasn't too psyched when they worked together in Bad Teacher, and recently Diaz did an interview in which this happened:
Justin and I had a journey together and still do. It changed, but I'm fine with that and so is he. I will always love the man in so many different ways.
Haunted by the literal interpretation of this statement (i.e. a mental slideshow of Cameron Diaz "loving" her fiancé in "ALL" of the different ways), Biel made like the grotesquely zany third act of a rom-com and rushed to confront Timberlake in Puerto Rico, where he is shooting a gambling drama with Ben Affleck.
She supposedly left him with an ultimatum: cut off contact with Diaz or their wedding is off. Should he? Or should he not? Or should they bring it on down to Omeletvilleeeellelele? [Celebrity Dirty Laundry]
---
G/O Media may get a commission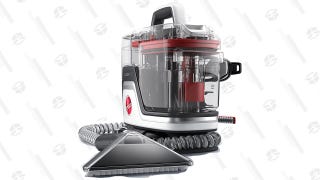 Save $10
Hoover CleanSlate Plus Carpet & Upholstery Cleaner
Dennis Hopper's 21-year-old son Henry, who recently starred opposite Mia Wasikowska in the Gus Van Sant movie Restless, has been accused of plying a 15-year-old girl with drugs and alcohol and then raping her. He had apparently been talking to her on Facebook since last February and invited her to his Venice, California house on multiple occasions that ended with "sexual intercourse, forced oral copulation and sodomy." The girl's mother is suing for unspecified damages. [TMZ]
---
Over on the set of The Canyons, Lindsay Lohan was loath to go topless when the scene required it, but she felt better once she convinced the 10-man crew to strip down to their boxers with her, which is kind of a genius idea and should really be written into actress's contracts. And then, apropos of nothing, the item ends with:
As for her porn star cast mate James Deen — nine inches.
So now you know. Y'know, if you didn't know before. Don't you get the feeling that screenwriter Bret Easton Ellis is sitting in his stark white living room in a gazillion dollar contemporary chair and watching this all unfold through a snowglobe with cocaine floating around in it?
[TMZ]
---
Director Giovanni Agnelli has come to K-Stew's defense: "'I'll say right now what the manipulative media isn't saying... Kristen Stewart did not have any type of sex with Rupert Sanders. The spin that keeps growing on this story is staggering. There was NO on set affair. Stop printing LIES." [Daily Mail]
Meanwhile, Sanders is still walking around with his wedding ring on. [NYDN]
And K-Stew and R-Patz are fighting over who gets to keep their rescue dog. [Daily Mail]
---