There's trouble at the Jersey Shore tonight, folks. Former Jersey Shore star Mike 'The Situation' Sorrentino and his brother/manager Marc have both been indicted for tax fraud.
According to ABC News, the two were charged with conspiracy to defraud the government, among other charges:
In addition, Marc was charged with three counts of filing false tax returns for 2010-2012, while Mike was charged with two. Mike, 32, was also charged with failing to file a tax return for 2011, when he allegedly earned $1,955,757.

"According to the indictment, Michael and Marc Sorrentino filed false tax returns that incorrectly reported millions made from promotions and appearances," U.S. Attorney Paul J. Fishman told ABC station WABC in New York City. "The brothers allegedly also claimed costly clothes and cars as business expenses and funneled company money into personal accounts. The law is absolutely clear: telling the truth to the IRS is not optional."
A lawyer for Marc Sorrentino told ABC the charges were "fiction" and the government was relying on the word of a "disgraced" former accountant.
Sorrentino was in in court on Wednesday afternoon and was released on $250,000 bond, according to TMZ:.
TMZ has learned he will also be subject to random drug testing, and is prohibited from drinking any alcohol ... pending his trial. Mike's attorney says the sobriety condition was put in place because Mike went to rehab back in 2012 for pain pills.
G/O Media may get a commission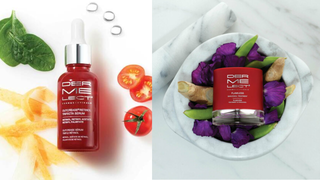 Save $19
Retinol Renewal Kit
Remember guys, it's "gym, tan, laundry, defraud the US government."
[ABC News/TMZ]
---
Miles Teller hated, hated, hated working on Divergent . He said it made him feel "dead inside," which is exactly how I felt when I found out Ariana Grande's ponytail was not real.
According to W Magazine:
"At that time, he was in Chicago shooting this past spring's Divergent. "I didn't have an interesting part, and I'd taken the film for business reasons: It was the first movie I'd done that was going to have an international audience. I called my agent and said, 'This sucks.'"
His dream role is also to play Elvis in a movie. Poor Vic Damone; nobody ever dreams of playing him in a movie.
[ W]
---
KERRY WASHINGTON STEPPED OUT WITH HER BABY. BUT WHERE IS THE BABY, TMZ? I SEE NO BABY. STOP TORMENTING ME. [TMZ]
Britney Spears wants to sell Kate Middleton all her underwear. [Rebecca Rose leans over to whisper in Brit's ear "Britney. You mean the stuff from your new underwear line, right? You're not trying to sell her your own panties you are wearing, right? OK, just making sure.] [E Online]
The "hot pastor" (really?), Rich Wilkerson Jr., who married Kanye West and Kim Kardashian is getting his own reality show. [Celebuzz]
Paulina Gretsky is pregnant. [CBS]
The Shawshank Redemption was too "talky" for Stephen King and he didn't think the movie would do well at all. Get busy living or just shut the hell up already, I guess. [HuffPo Celebrity]
Liam Neeson and Morgan Freeman both have agents who are deviant mind controlling hypnotists because that is the only thing that explains how they both agreed to do Ted 2. [Vulture]
Justin Bieber went scuba diving and now has to have surgery for his ears. That's a lie; the poor boy finally sat down and listened to Under the Misteloe all the way through and his ears simply exploded from the pain. [The Hollywood Life]
Here is the opening to the 1988 Crystal Light Aerobics Championship hosted by Alan Thicke:
Images via Getty.
Images via Getty.
---