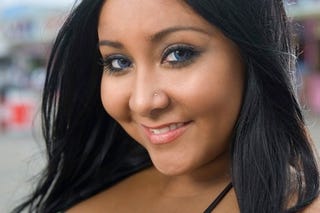 Brad Ferro, who drunkenly punched Jersey Shore's Snooki in a bar, has apologized via the New York Post, saying he remembers "very little" of that night and that "I was raised to act in a respectful manner to women."
In a sit-down with his lawyer, Ferro says that when he saw the video of him punching Snooki in the face after she complained about him stealing her drink, "I was sick to my stomach." He adds, "It's all fuzzy. I remember a punch — I don't remember who or why and I remember being arrested."
Says his lawyer, "I think he's a decent young man who, unfortunately, made a bad decision which has come back to haunt him."
The Post runs a photo of Ferro looking penitent and far milder than the thuggish headshot that's been used up until now. It's clearly an implicit exchange of access for a slightly more sympathetic hearing. Anyone sold?
Punch-Drunk TV Sluggo: So Sorry! [NYPost]