So, these crazy Jersey kids are finally letting the spotlights fade and slipping elegantly into the dim anonymity of American life. Oh wait, just kidding, PAY ATTENTION TO THEM PLEASE. THEY HAVE A LOT OF GREAT "BRANDING" IDEAS FOR YOU. MTV caught up with JWoww, The Situation, Snooki, and all those other two-syllable-name-ones and asked them how they envision the next five years. Mostly it consists of selling you stuff. Get ready to die of caring.
JWoww:
"My five-year [plan] would be marriage and babies...And being a producer, business and babies!"
The Situation:
"Business and babies, I like that! Remember that! That's a good one! I'm thinking the next five years, you know I've dreamt since I was a little boy to be in front of the TV screen and four years later, you know, 'Look at me! I'm on MTV, mom.'"
Snooki:
"The next five years, hopefully, I'll have my own talk show," she teased. "I want like a late-night talk show, so I can talk about anything and get raunchy and you know just like have fun, kind of like a 'Chelsea Lately' kind of show. I would love to have that, but you know hopefully have more kids, be married and have my clothing line be a success."
G/O Media may get a commission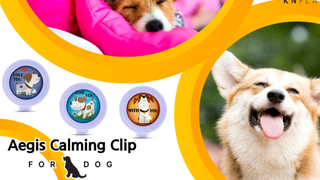 20% off
Aegis Calming Clip for Dogs
Ronnie:
"I have Ron Ron juice hitting the stores at the end of January. I want to stay with kind of the liquor and that whole party scene kind of thing, but I definitely want to do the acting if that doesn't work out."
Deena:
"Next five years? I don't know... hopefully my Whisper hair product kicks off and my clothing line, but if not, I plan on maybe going back to school for beauty, hair, makeup."
Sammi:
"I kind of want to get into hosting and things like that. And I am, of course, branding. I have my workout line; I have a clutch/purse line, perfume, cologne, just branding stuff."
'Kay, kids. You do that. Toodles. [MTV]
---
I know that everyone is just terribly over James Franco because he's always doing stuff and it's annoying, but y'all are just jealz because dude is having the most hilarious time of all times. At least, I can't bring myself to be mad. Did you see his little face in that Marina Abramovic documentary? Have you seen that thing where he "teaches" his baby brother how to be an actor and makes him sniff jackets? Anyway, his new thing is that he got a book deal. A poetry book deal.
Graywolf Press, the independent Minnesota publisher, said that it had acquired a new poetry collection by Mr. Franco called "Directing Herbert White," which it plans to release in April 2014.

The collection takes its title from a poem Mr. Franco composed about his work on a short film that he, in turn, adapted from the poem "Herbert White," by Frank Bidart.

Mr. Franco said in a telephone interview on Monday that this poem was "about my relationship to that poem, Frank's relationship to the poem as I have learned about it from knowing Frank and the adaptation process," and "how Frank puts so much of himself into the figure of this psycho necrophiliac."
Oh, Franco. YOU DO YOU. I'm probably not going to read your necrophilia poem book, but you do you. [NYT]
---
lol @ some talent agency saying they can book Lindsay Lohan for your bar mitzvah:
A North Carolina company called 123 Talent recently sent out mass emails, offering to book Lindsay for personal appearances, weddings, and Bar Mitzvahs.

...And now, Lindsay's pissed — insisting her career hasn't sunk so low that she'd be forced to do anything like a Bar Mitzvah or a wedding ... not yet anyway.

...The CEO of 123 Talent — which still claims to represent Lindsay on its website — tells us, the pitch was NOT bogus but Lindsay's team has since "decided to go in another direction."

The CEO added, "Unfortunately, we are not working with Lindsay Lohan."
lol @ that.
lol.
[TMZ]
---