Attendees at a moderated discussion with Michael Wilkinson, the Oscar-nominated costume designer behind American Hustle, got some pretty fun inside details about the life of a Hollywood movie dress.
Actors and directors will all tell you that costumes aren't just fancy clothes that make things look authentic; they're integral to a character's development and on-screen portrayal. Wilkinson talked about how he helped transform Jennifer Lawrence for one of the character's biggest scenes and how girlfriend got some delicious cheese-flavored snacks all over some of the dresses. (SPOILER ALERT FROM HERE ON OUT IF YOU HAVEN'T SEEN THE FILM YET GUYS)
Describing how he translated her character's unstable mental state in his costume designs, Wilkinson said, "With Rosalyn there was a real dichotomy, almost a schizophrenia. We saw her at home, where she was sort of hiding from the world, she was depressed and falling asleep under a sun lamp. We liked that she didn't give a damn how she looked [at home] . . . wearing printed muumuus and shapeless things. Then, when she goes out to town, she switches modes and tries to get attention and make her husband jealous."
So for one pivotal scene where Lawrence's character confronts her husband's mistress, portrayed by Amy Adams, Wilkinson went all out and came up with this (dare I say) rather iconic white gown for Lawrence (pictured above). It's gorgeous and it really does add to the character's moment.
Because her character was originally supposed to spill champagne over herself in the scene, Wilkinson and his costume department constructed four different versions of the dress. "And I'm kind of glad we did," Wilkinson told the audience inside the historic Wilshire May building, "because Jennifer Lawrence is a very . . . let's say . . . raw and intuitive young lady, and she's not against eating Doritos and snack food in her costume. So we were glad that we had a couple [backups]." (Fortunately for the production—the costumes were not too expensive. Russell was so intent on the dress looking cheap and stretchy that Wilkinson chose fabric that only cost $3.99 per yard.)
G/O Media may get a commission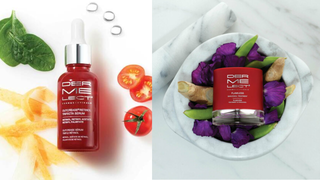 Save $19
Retinol Renewal Kit
Another vintage wrap dress (designed by Diane von Furstenberg, OMG ) earmarked for Amy Adams to wear arrived with a wine stain on it. But since Adams, Russell and Wilkinson were so in love with the dress (PROBABLY BECAUSE IT WAS A DIANE VON FURSTENBERG VINTAGE WRAP DRESS OMG DID YOU GUYS SEE THAT PART), they decided to use it, stain and all. Wilkinson said they even came up with a back story for Adams' character to explain the stain.
I think that's great, considering about 90 percent of the clothes I wear also have Dorito and wine stains all over them. I am living the glamorous life of a Hollywood movie star, y'all.
ETA: I think this is the Von Furstenberg wrap dress that Wilkinson is referring to, but I cannot be sure 100 percent:
ETA: Thanks to some kickass commenters down below WE FOUND THE DVF DRESS!! Awesome; you guys rock.