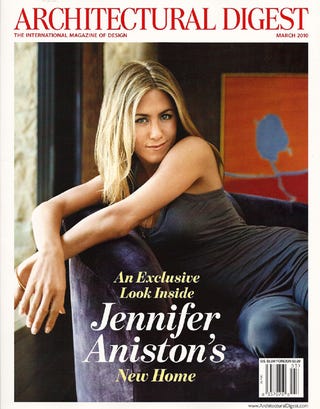 Remember the house that Jennifer Aniston showed off in Architectural Digest last year after 2½ years of pouring her heart and soul into the renovations? Well, now she's selling it. She recently explained to People that she woke up in London one morning and thought, "my life felt really cluttered." She continues:
"I couldn't sleep and I sort of had one of those moments where I went, I really need to simplify ... My life needs to be simplified and clear out the clutter. And along with that thought came, 'I should sell my house.' ... I had the realization that this is just too much for me. I'm not this person."
It seems like there may be a bottle of wine and a Hoarders marathon missing from that story, but don't cry for Jen (that's the tabloids' job). She's put the Beverly Hills house on the market for $42 million, and says she's "looking for little spots in New York City to go back home."
Jennifer Aniston's Beverly Hills Home Goes On Sale For $42 Million [People]
Earlier: Guided Tours: The House Where Jennifer Aniston Cries Herself To Sleep