Jennifer Aniston would like everyone to give more credit to human beings, please.
Aniston, who does not want to spend any more time talking about her ex-Brad Pitt and his wife Angelina Jolie, talked about her ex-Brad Pitt and his wife Angelina Jolie. In a new interview with The Hollywood Reporter that references everything from the Dalai Lama to the death of Laurence Olivier (?????) to Aniston's " fortress-like house," there is this gem that is Aniston's fresh new take on that time Pitt cheated on her with Jolie some "non-story" "soap-opera bullshit" the world should just stop with already.
"We're not in daily communication," she says. "But we wish nothing but wonderful things for each other. Nobody did anything wrong. You know what I mean? It was just like, sometimes things [happen]." She throws up her hands in exasperation. "If the world only could just stop with the stupid, soap-opera bullshit. There's no story. I mean, at this point it's starting to become — please, give more credit to these human beings."
Jennifer Aniston, life coach.
There are people in my life that are like, 'How do you even talk to that guy?' But what's the point of holding on to [anger]? That's so toxic. We're human beings. Human beings make mistakes. Human beings are not perfect. And by not forgiving someone, it's not allowing human beings to evolve and become better people."
G/O Media may get a commission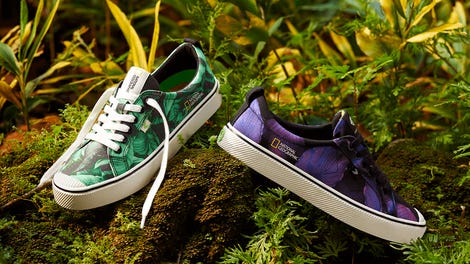 New New New
Cariuma + National Geographic
Jennifer Aniston, Philosophy professor:
"Time moves really quickly these days, I don't know why," she says poignantly. "How many times did our parents say, 'Stop wanting everything to rush'? You want summer to be over, you want Christmas to be over, you want this to be over, you want everything to be over just so you can get to the next thing. And boy, you really wish you'd listened to a lot of the things they said."
She also opened up about her struggle with dyslexia, which she wasn't diagnosed with until she was in her 20s. "I thought I wasn't smart. I just couldn't retain anything," she told THR. "Now I had this great discovery. I felt like all of my childhood trauma-dies, tragedies, dramas were explained."
The entire interview is an absolute must-read, if only for this sentence: "She's rich and glamorous and famous, but she's also one of us: a real person with a beating heart."
So she's not an empty bottle of Smart Water with a Seiko watch taped to it. Got it.
---
Yes, I'm back from Vegas. It was fantastic. I won $15.54 at an airport slot machine. I had prime rib and I saw Emmitt Smith and Tommy Lasorda. Honestly, that's about all I remember. Also I got dragged on this thing (video below). It scared the living shit out of me and I thought I was going to die but then after downing my fourth "Vegas Sunrise" I found it to be quite wonderful:
Image via Getty.